Loads Knowl Quarry
Hallsteads, High Peak
Under the terms of the Act of Parliament empowering construction of the Peak Forest Canal and Tramway (Act 34 George III cap 26, dated 28 March 1794), the terminus of the Peak Forest Tramway was to be at Load's (or Loads) Knowl within Peak Forest in the County of Derby.
This small limestone quarry was at Hallsteads where the road from Chapel-en-le-Frith forks, one road leading to Dove Holes and Buxton and the other to Chesterfield or Bakewell via Sparrowpit. It was here that the second inclined plane on the Peak Forest Tramway was sited in order to access the quarry. Although there is no corroborative evidence, it is understood that this inclined plane was 33 yards long with a double track. Unlike the inclined plane at Chapel-en-le-Frith, which was self-acting, waggons were drawn up and lowered on this plane by a horse gin. Possibly, this arrangement was necessitated by a lack of space for sidings where empty waggons could be kept. As a result of this, empty waggons might not always have been available when loaded waggons at the top of the plane were ready for sending down the tramway to Bugsworth Basin.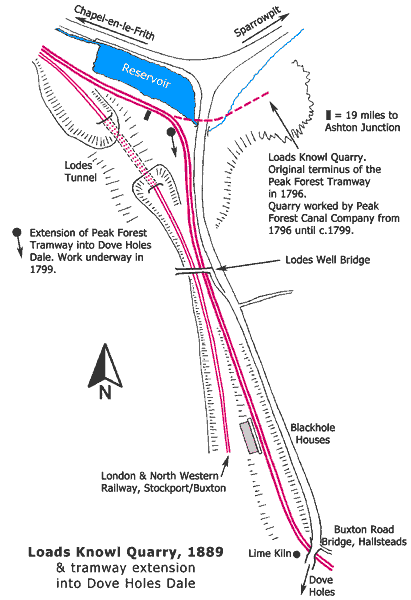 Soon after the Upper Peak Forest Canal and Tramway opened on the 31 August 1796, it became apparent to the canal company that Loads Knowl Quarry was too small to meet the increasing demand for limestone. As a result, it was decided to extend the tramway into Dove Holes Dale. Work on constructing this tramway extension was underway by 1799 and Loads Knowl Quarry closed in c.1799. This extension ran alongside the road to Dove Holes and Buxton for a short distance before swinging under the road into Gnat Hole at the head of Dove Holes Dale.
In 1798, Henry Kirk built a row of terraced houses, known as Blackhole Houses, beside the tramway at Hallsteads to house tramway and quarry workers. In 1808, George Potts built a lime kiln by Buxton Road Bridge and it is understood that the limestone burnt in this kiln came mainly from Gisborne Quarry further down Dove Holes Dale.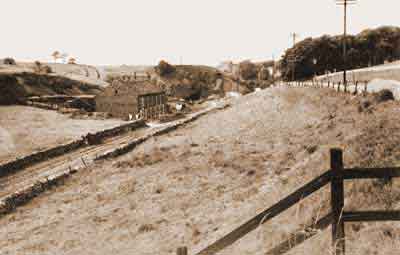 Blackhole Houses, Hallsteads, 1930s.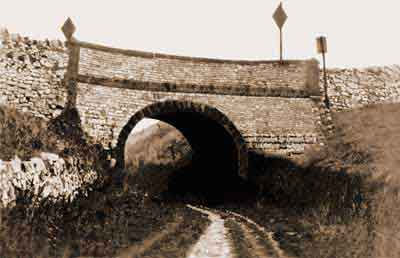 Buxton Road Bridge, Hallsteads, September 1928.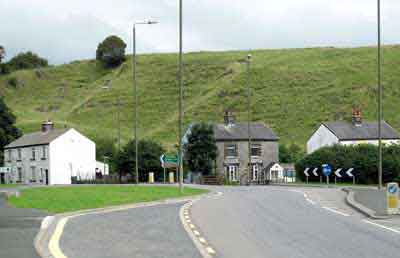 The remains of Loads Knowl Quarry in the
hillside behind the cottages, 23 August 2009.