Holderness Quarry
& Terminus of Peak Forest Tramway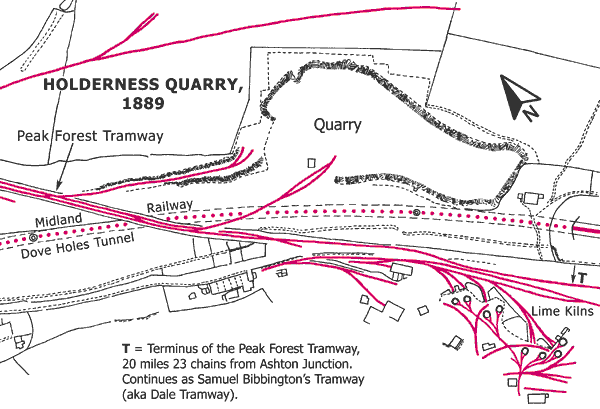 The above map shows the terminus of the Peak Forest Tramway as given in the Distance Table of the Peak Forest Canal and Tramway, published by the Manchester, Sheffield & Lincolnshire Railway Company in September 1888.
After the opening of the Peak Forest Tramway in 1796, a number of independent limestone quarries began to be developed in the High Peak, that were serviced by the tramway. These early quarries included Holderness, Newline, Perseverance and Bold Venture. Small-scale lime burning in the quarries was initially undertaken using locally-mined coal but this soon became exhausted requiring coal to be imported. When the Midland Railway Company opened their line in 1866 it became easier to import coal from neighbouring coalfields and this enabled the construction of larger batteries of lime kilns, as can be seen on the map.
The arrival of the railway affected the operation of the Peak Forest Tramway as limestone products could then be exported by rail rather than by tramway. This led to a gradual decline of the tramway but it remained open until 1922 when the final commercial load of limestone travelled the complete length of the tramway to Bugsworth Basin. The final load came from the quarries of S Taylor Frith & Company.