A Brief History (Note 1Extract from a National Coal Board Report, dated about September 1959, concerning the progress of industrial relations with the growth of Bradford Colliery.)
Coal mining at Bradford Colliery can be traced back to c.1590 and in the reign of James I (1603-1625) it had an annual output of around 10,000 tons and was probably supplying the entire needs of Manchester (Note 2In 1610 there were coal mines at Bradford, near Manchester, (Local Notes and Queries, Manchester Guardian, No. 173.). With the rapid expansion of the Manchester during the Industrial Revolution, the Manor of Bradford was unable to meet the demand and coal had to be brought in from mines such as those at Clayton, Moston, Worsley and Clifton. Clayton and Moston collieries in Manchester were in close proximity to Bradford Colliery to the south and north, respectively. Clayton Colliery was the closest to Bradford Colliery and it merged with it. Moston Colliery was 2½ miles distant from Bradford Colliery and after nationalisation in 1947 a horizon tunnel was provided to connect the two collieries.
At first, coal was mined at shallow depths, but even so, the capital required was beyond the means of all but the wealthy and it was recorded during Tudor days that several hundred pounds had been invested at a colliery in Bradford Manor, where one of the pits was sixty-seven feet deep.
A document, dated 21st October 1740, shows that Sir Oswald Mosley leased to John Seddon, of Manchester, '···· the mine and mines, vein and veins, seam and beds of coal kannel (Note 3Kannel (or Cannel) is a bituminous coal that burns brightly with much smoke. Cannel coal is a dialectal variant of candle coal from its bright flame.) to be found in the land around Bradford ····'. In return, Seddon agreed to pay Sir Oswald Mosley the sum of £50 per annum for such coal as was raised by ten 'gotters' (Note 4'Gotters were Hewers of Coal, that is, Coal Miners.).
Historical accounts for c.1590 document several burials of miners killed at 'Bradford Colepitte'. At this time workings were shallow and coal was extracted from thin seams. This practice continued into the 19th century but it is known that coal was being wound in shafts from 1845 onwards. These early coal mines were known as bell pits and in practice a shaft was sunk to reach the seam where coal could be excavated by miners. A winch was used to raise the coal to the surface in a basket in the manner of raising water from a well. As coal extraction proceeded the bottom of the shaft was enlarged and a sloping roof was created as the coal and surrounding rock was removed. Thus these mines were called 'bell pits' because in cross section they resembled a bell. Miners, often women and children, were lowered into (or raised from) a bell pit in the basket used to raise coal by clinging onto the rope. When a pit was considered to be too dangerous to work any further it was abandoned and another shaft was sunk close by. The abandoned pit was then backfilled using waste material taken from the new pit.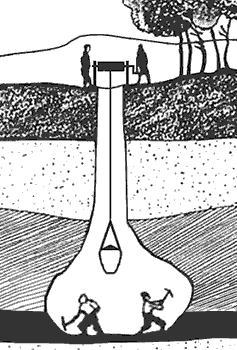 Schematic representation of a bell pit.
It is evident that Bradford village supplied all the colliery's manpower until 1870. In that year Edward Bryan (Note 5Edward Bryan was killed in a mine accident in 1874.) and his six sons arrived from Pendleton to work at the pit and it is at this time we have the first evidence of a strike, since the local miners '···· were so suspicious of these strangers that they did not go down the pit until they had had a good look at them'. The Bryans remained and became 'gradely Bradford folk' themselves in good time.
When the Lancashire Miners' Federation came into being on the 19 April 1881, its first Secretary was a Bradford Colliery man, Thomas Seddon, who was also elected Secretary of the Miners Federation of Great Britain, from its inception in 1889 until 1910.
Many Bradford miners made names for themselves in wider spheres. One of the Miners' Federation representatives returned to the House of Commons in the 1910 General Election, was John Edward Sutton, a Checkweighman at the Colliery (Note 6Checkweighmen were elected and paid by the men to ensure fair payment for coal won and they worked alongside the employer's wage clerks.). John Edward Sutton (23 December 1862-29 November 1945) was the Member of Parliament for the Manchester East Constituency from January 1910 until 1918 when the constituency was abolished. He was a trade unionist and Labour politician. He joined Bradford Colliery, aged 14 years, where he became a Checkweighman as well as becoming Secretary of the Bradford Branch of the Lancashire and Cheshire Miners' Federation. In 1894 he was elected to Manchester City Council as an Independent Labour Party Councillor for the Bradford Ward. The Lancashire and Cheshire Miners' Federation was founded in 1897 and it was wound up in 1945. Its office was in Bolton.
Typical of many families, who served Bradford Colliery during its relatively slow growth until the end of the war (Note 7That is, World War II.), was John Bryan, a Checkweighman and Secretary of the Bradford Branch of the National Union of Mineworkers (NUM). A grandson of the Edward Bryan of the 1870 intruders, John Bryan was a loyal supporter of the NUM who was liked and respected by both management and men.
The labour force supplying Bradford Colliery up to World War II was mainly drawn from descendants of the pioneer miners and their progress in social and political affairs followed a pattern that was typical of mining communities throughout Britain.
The table below provides some details of Bradford Colliery between 1880 and 1945. Additionally, trade directories list the following names: Thomas Porter, coal owner (1828/29); John Brown, agent (1841); Charles James Stanley Walker (1841); Clegg and Thomas Livesey, coal owners (1895); Henry Shaw (1903); G H Pybus, Henry Shaw and F L Ward (1909 and 1911). Regarding Thomas Porter, it is understood that he showed unfairness to his miners and this may be the reason for industrial unrest that prompted a strike in 1844. It is this event that may have caused Porter to sell the colliery to Messrs Clegg and Livesey who had succeeded him by 1845.
Bradford Colliery
Year
Mine
Shaft
Manager
Under-Manager
Men
Below
Ground
Men
Above
Ground
1880
Deep†
Edward Williams
1896
Deep
H L Wood
George Bentley
404
125
1908
Deep
George Bentley
James Parkinson
644
146
Parker‡
Chris Nurney
388
53
1918
Deep
T H Dixon
J Garner
675
113
Parker
M Lomas
498
122
1923
Deep
F H Fisher
T F Radford
745
186
Parker
M Lomas
284
1945
Not given
J F Carr
R Mullin
642
218
†Deep Shaft (No.1) sunk in 1854.
‡Parker Shaft (No.2) sunk in 1906.
The names of the owners of Bradford Colliery during Victorian times are elusive. Descendants of the Livesey family recorded on the 1841 Census eventually became owners and in time it became the Bradford Coal Company. Somewhat bizarrely, it was later bought by the 'Fine Cotton Spinners' who considered that they should own one of the mines that supplied them with the coal used to power their mills. The identity of the 'Fine Cotton Spinners' is obscure but one possibility is that it was the 'Fine Cotton Spinners and Doublers Association' who bought the colliery in 1899. During this period of ownership the mine retained its Bradford Coal Company name. At this time, the Parker and Crombouke Mines (seams) were being worked. The 'Fine Cotton Spinners' were aware of the existence of the rich Roger Mine but as they knew nothing about coal mining and had insufficient resources, they were unable to mine it. In 1935 the 'Fine Cotton Spinners' sold out to Manchester Collieries Ltd who had both the resources and mining knowledge to work the Roger Mine.
The Livesey surname crops up again in records for 1896/97 when Richard Johnson Clegg Livesey and Thomas Livesey, along with F L Ward, of Bradford Colliery are listed as being members of the Federated Institute of Mining Engineers.
In 1875 the operating company became known as Bradford Coal Company Ltd and subsequently this was changed to Bradford Colliery Company Ltd. Between 1935 and 1947, when it was nationalised, it was under the control of Manchester Collieries Limited and the seeds of reorganisation were sown in the deepening of Parker Shaft (No. 2) to the 900-yard level of Deep Pit Shaft (No. 1). Following nationalisation, Bradford Colliery came under the control of the National Coal Board (NCB). Vesting day was on the Wednesday, 1 January 1947. A plan of the Roger Mine workings dated 27 May 1954 and deposited at the NCB Mining Records Office on the 28 August 1969 records that the No. 1 shaft was then 923.25 yards deep and the No. 2 shaft was then 955.81 yards deep.
Archive References
Lancashire Archives Ref. QSP/2591/9 dated c.1810. Manchester. Instructions for motion that appeal [of Messrs. Chadwick Tipping and Co., proprietors of Bradford Colliery, against rating assessment] be struck out.
Title deeds relating to Bradford Colliery. Manchester Cathedral Archives Ref. Mancath/2/A/1/Newt/16/7 dated 1829-20th century. Includes leases of mining rights to Bradford Colliery and 999 year leases of land for building upon to William Hutchinson.
Bradford Coal Company Ltd was incorporated in 1875 (Company No. 9808) and it was dissolved before 1916. National Archive Ref. BT 31/2135/9808, where 'BT' refers to records of the Board of Trade and of its successor.
Logo, Manchester Collieries Ltd.
Manchester Collieries Ltd
This company was incorporated in 1929 (Company No. 237654) and its Registered Office was at Walken, north west of Manchester. Its sales office was at Arkwright House, Parsonage Gardens, Manchester, which was built in 1929. By 1940 it owned 14 coal mines in the Lancashire Coalfield, these being: Astley Green (Astley), Bedford (Leigh), Brackley (Little Hulton), Bradford (Manchester), Chanters 1 & 2 (Hindsford, Atherton), Gibfield (Atherton), Gin (Astley), Howe Bridge (Atherton), Mosley Common (Boothstown), Newtown (Clifton), Nook (Astley), Sandhole (Walkden), St Georges (Walkden) and Wheatsheaf (Pendlebury).
At this time, the Managing Director and Chief Mining Engineer was James Tardif Browne F.G.S. and the two District Mine Managers were Sir (Edward) Humphrey Browne C.B.E. and John Brass Jr. Following the nationalisation of the coal-mining industry on the 1 January 1947, Sir Humphrey Browne was appointed as the Director General of Production for the National Coal Board and in 1957 he was appointed Chairman of the Divisional Board of the West Midlands Division. Sir Humphrey was born in Nuneaton on the 7 April 1911 and he died in Wrekin, Shropshire, in February 1987, aged 75 years.
Manchester Collieries Ltd commenced voluntary liquidation proceedings in 1954 and these were completed at a general meeting held on the 12 July 1956. Ref: The London Gazette, Issue 40795, Page 3254, 1 June 1956.
A Profile of Bradford Colliery (Note 8Published by the Western Area Public Relations Department of the National Coal Board and dated about September 1968.)
The first modern shaft at Bradford Colliery was sunk in 1854 and this was Deep Pit Shaft (No. 1) and it was reputed to be the second deepest in British coalfields. A second shaft was sunk in 1906 and this was Parker Shaft (No. 2) (Note 9The two shafts initially had wooden headgear, which was later replaced by more modern steel headgear.).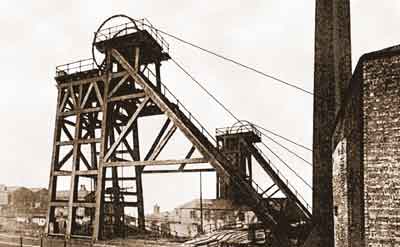 Bradford Colliery, 1910.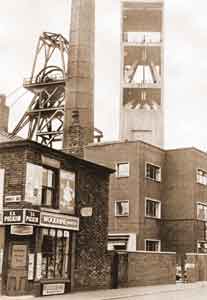 Headgear, Bradford Colliery, 1963.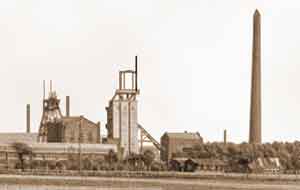 Moston Colliery, late 1950s.

Reorganisation and reconstruction of the pit was completed in 1958 when four faces were in operation in two seams; three faces in the 6-feet thick Roger Mine and one face in the 3 feet 8 inch-thick Crombouke Mine which was 26 yards above the Roger Mine. The two shafts, now both 900-yards deep, had insets at 730 yards. From each of these level horizons were driven, one pair in a northerly direction below Newton Heath and into the Moston area and the other pair westerly below Holt Town and Ancoats .

Shaft No. 1 served as a 'downcast' to carry air down into the pit and this was equipped with a cage for winding men and supplies. Shaft No. 2, fitted with a Koepe-winder installation, was the 'upcast', which extracted stale air (Note 10The new concrete winding tower and associated buildings for shaft No. 2 were developed and built by A Monk & Company Ltd of Warrington at a cost of £1,048,891. The concrete tower was known as a Koepe Tower and Winder and this was installed in 1954. It used an endless rope to which two skips, each of 12-ton coal capacity, were fixed, instead of two ropes coiled over a drum.). The winding time from the 900-yard level was 97 seconds (Note 11A speed of 19 miles per hour.), the capacity of the shaft being up to 400 tons per hour.

The seams lay in a gradient of 1 in 1½ to 1 in 2½ and were worked so that roadways were level. Every face was fully mechanised, coal being won by a 150hp BJD Anderton shearer, cutting a 30-inch wide slice of coal on its run from the lower level main gate to the higher level tail gate. On the return journey it ploughed the coal into the face conveyor. The faces were supported by hydraulic props and link bars. The pit had long been connected to the nearby CEGB (Note 12Central Electricity Generating Board.) coal-fired power station in Stuart Street by means of a tunnel containing a conveyor belt to transport coal directly to the boilers. This 500-yard long tunnel passed below Mill Street and the Ashton Canal. In addition to this two horizon tunnels were provided, one connecting to Ashton Moss Colliery (3¼ miles distant) and the other to Moston Colliery (2½ miles distant). The purpose of these was to enable coal from both collieries to be transported to Bradford Colliery for washing and grading.

<!>

Left: Joint Bradford and Ashton Moss Collieries lamp check.
Centre: Clayton Colliery lamp check.
Right: Moston Colliery lamp check.

<!>

Although about £8M was spent on the pit after nationalisation, its life was cut short, due to severe geological conditions, and in September 1968 Bradford Colliery closed (Note 13On Friday, 6 September 1968.). In its last year the pit produced 538,808 saleable tons of coal at an overall productivity rate of 31.8 cwt per manshift. At the time it was employing 1,556 men and about half of these were found jobs in neighbouring pits or other areas.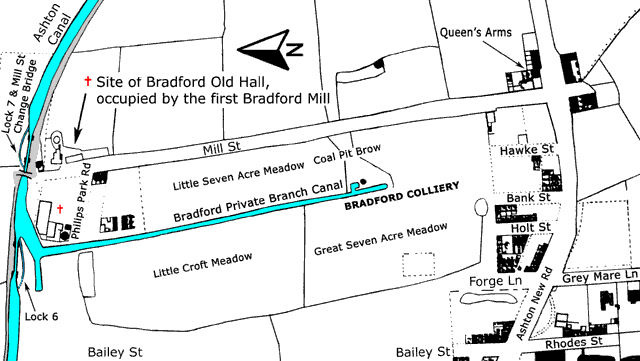 Bradford Tithe Map, 1845.
Manchester Coalfield
The township of Bradford lies on the Manchester Coalfield, which is about 4-miles long, lying to the east of Manchester and about 1½-miles wide. It is nearly surrounded by strata of red sandstone that separates it from the south-west Lancashire and Oldham region of the Lancashire Coalfield.
Coal Seams
The cluster of productive seams known as the Bradford Group includes Openshaw Mine, Charlotte Mine, Three Quarters Coal Mine and Bradford Four Feet Mine. The seams in this group were separated by bands of shale and fireclay, the latter being used to manufacture bricks. Situated at a depth of about 509 yards the Bradford Four Feet Mine is the deepest and thickest of these seams. Below the Bradford Group are the Parker Mine, Crombouke Mine and Roger Mine. The insets to the Parker and Roger Mines are at depths of about 543 yards and 946 yards respectively. The Crombouke Mine is 26 yards above the Roger Mine. As well as these, there are a number of unnamed thin coal seams.
Shafts (aka Pits)
Four shafts were sunk at Bradford Colliery over the years. The two earliest were Forge Pit and Little Pit, the latter being an air shaft used to ventilate the workings. The first modern shaft was Deep Pit (No 1) which was sunk in 1854 and had a diameter of 18 feet. This was also known as Livesey's New Shaft. The second modern shaft was the Parker Shaft (No. 2) which was sunk in 1906. The two modern shafts were side-by-side with the Parker Shaft being the northernmost. In 1953/54, the headgear of the Parker Shaft was replaced with a Koepe-winder installation. National Archive Ref. COAL 80/1806/43.
Forge Pit is believed to be the first deep shaft and this was sunk to a depth of more than 500 yards to reach the Bradford Four Feet Mine. This shaft was oval in section with the width across the widest part being about 9 feet. Miners were lowered down the shaft by a rope attached to a manually operated winch. At this time, it is likely that coal was transported from the coal face to the shaft in corfes, which were wicker-work baskets. These would then be hauled up the shaft using the same winch and rope.
Postscript
Although Bradford Colliery closed in 1968, it was not until 1973 that major demolition work started on the site. The steel headgear of No. 1 shaft was dismantled and in contrast the relatively new concrete Koepe tower and winder of No. 2 shaft were blown up.
Even though there were still substantial reserves of coal in 1968, the underground workings were causing a great deal of subsidence and in particular large areas of Bradford and Miles Platting were being affected. Houses and factories alike were reporting structural damage and even one of the large gas holders at Bradford Gas Works was touched by subsidence. The expansion plans for Bradford included working seams below Collyhurst, Cheetham and Ancoats with the attendant risk of more subsidence. Consequently the NCB decided that they had no alternative but to close the pit down.
Early Fatalities at Bradford Colliery
Date
Name and Details
21 Nov 1622
Ffrancis Taylior of Bradford killed with a fall to ## coale pitte, was
buried at Manchester Collegiate Church (Manchester Cathedral).
16 Jan 1661 or 1662
Thos. son to John Hilton slaine at Bradford coal pitt.
10 Nov 1664
Thos. Greene slaine at Bradford coal pitt.
For more details about Bradford Colliery use the following menu:

<!>

Lancashire Mining Museum at Astley Green
The last surviving headgear and winding house in the whole of the Lancashire Coalfield.
| | |
| --- | --- |
| | |
| A miner hewing coal. Note the timber pit props and lintels supporting the roof. | Miners drilling coal. Note the narrow-gauge waggonway used for the removal of coal. |
| | |
| Mine rescue team, 1920s. | Bradford rooftops in the 1930s. |
Bradford Colliery Memorial Sculpture
This sculpture celebrates the lives of the coal miners who worked at Bradford Colliery and it was installed near Manchester City Football Club's Etihad Stadium that adjoins the site of the colliery.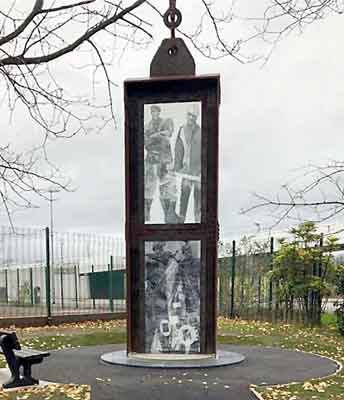 BRADFORD COLLIERY 1590-1973 A PIT IN THE CITY This memorial was realised by The Bradford Pit Project, established in 2013 by Lauren Murphy in memory of her Grandad Alan Evans. With special thanks to Bradford Pit Miners - Michael Doherty, Raymond Ahern, Arthur Court, Ernie Keelan, John Lord, Samuel Nicholson, Michael Goldsworthy.
Supporting Partners - Manchester City Council Laing O'Rourke Construction Broadbent Studio Manchester City Football Club Manchester School of Art Chris Brammall Arts Ltd Scribble Stone Manchester Histories Festival Manchester Libraries