Denton & Haughton, Tameside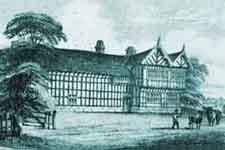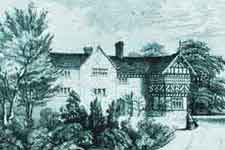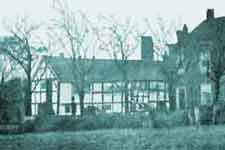 Prior to 1884, Denton and Haughton were two neighbouring townships in the County Palatine of Lancashire but on Monday, 29 September 1884 the two independent boards were amalgamated under one authority, known as the Denton and Haughton Local Board. This arrangement lasted until 1894 when a Committee of Lancashire County Council decided that the two townships should be combined under one authority, known as Denton Urban District Council. The new council absorbed the township of Haughton but only retained the name of Haughton Green which until 1894 was part of Haughton. On Tuesday, 4 December 1894, the new Local Government Act came into force and Wednesday, 5 December was the last day for the receipt of nominations for Urban and Rural District Councils. The nominations for Denton Urban District Council (15 members) were as follows:
Unionist Candidates:

Peter Rothwell, W. W. Cooke, Elijah Hyde, Revd Francis Sardeson, M.A. (1864-29 Dec 1928), William Mellor, William F. Chambers, William Booth, William Hallworth, Alfred Burrows and Frederick Bibby.

Progressive Candidates:

William Howe, Jonathan Moores, Lees Broadbent, J.P., Edwin Walker, Revd Lawrence Scott, Edwin Oldham, J.P., Thomas Woolfenden, J.P., Peter Richardson, Frederick Bailey, George W. Stelfox, Joseph Marsden and Edward Mills.

Independent Candidates:

Mark Taylor and Richard Cross.

Trades Council Candidates:

George Wilde, C. Birch and J. Higgins.
Following the election, William Howe became the first Chairman of Denton Urban District Council in the year 1895/96.
In April 1974 local government reorganisation created the artificial County of Greater Manchester and simultaneously the equally artificial Metropolitan Borough of Tameside was created. Denton was one of nine individual townships, each with its own identity, (Ashton-under-Lyne, Audenshaw, Denton, Droylsden, Dukinfield, Hyde, Longdendale & Hattersley, Mossley and Stalybridge) that were amalgamated to form Tameside and Denton Urban District Council ceased to exist.
In 1986 Greater Manchester ceased to be an administrative area and was replaced by 10 councils (Unitary Authorities); namely, Bolton, Bury, Oldham, Rochdale, Stockport, Tameside, Trafford, Wigan and the cities of Manchester and Salford. On the 1 April 2011 the Greater Manchester Combined Authority (GMCA) was established and it was comprised of the GMCA itself plus the 10 original councils. Initially it was run jointly by the leaders of the ten councils and an interim Mayor of Greater Manchester. Its function was to work with other local services, businesses, communities and other partners to improve the region. On the 4 May 2017 Andy Burnham was elected as the first Mayor (or 'Metro Mayor') of Greater Manchester.
Denton and Haughton still lie within the County Palatine of Lancashire.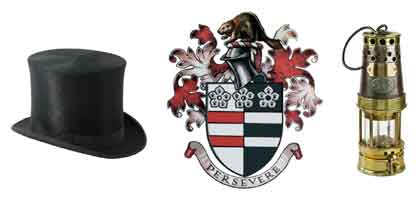 <!>
<!>
<!>
<!>
For the location of Denton & Haughton in the County Palatine of Lancashire click here » Location
Historically, the northern border of Denton was with Audenshaw and Hooley Hill and its southern border was with Bredbury on the other side of the river Tame in Cheshire. To the west, along the river Tame downstream, it also shared a border with Reddish which at this time was in Lancashire. Part of the border with Reddish was a stream flowing through Denton Wood. The township was about 2½-miles long, north to south, by about 2¾-miles wide, east to west, at its widest point. The highest ground in lay along its eastern border with Haughton.
Haughton was a narrow township, about 2½-miles long, aligned north and south, following the right bank of the river Tame. Audenshaw and Hooley Hill lay on its northern border and Woodley and Bredbury lay on its southern border on the other side of the river Tame in Cheshire. The highest ground was along its western border with Denton.
The border between Denton and Haughton was roughly on a north-south axis but it was ill defined and seemingly variable, lacking any natural dividing features. Commencing at Audenshaw in the north, the border between the townships was Ashton Road (formerly Long Lane). The border then followed Ashton Road to just beyond Wilton Street at which point it turned due east as far as Moorside Lane. Here it turned southwards to join Hyde Road where it turned westwards to follow Hyde Road for a short distance before turning due south to enclose Haughton Hall and Haughton Hall Farm within the township of Haughton. The border then curved eastwards by Whittles Farm (in Haughton) before curving westwards to follow Tib Street and join Stockport Road. Thus, the north side of Tib Street was probably in Denton, whereas the south side was probably in Haughton. At the junction of Tib Street and Stockport Road, the border turned southwards to follow the road and cross over Three Lane Ends (Masons Arms/Old Pondicherry) to enter Two Trees Lane, which it followed for a short distance. It then struck out in a southerly direction, across the fields, to enclose Lower Haughton and Haughton Dale within the township of Haughton. The border then, more-or-less, followed the stream flowing through Hardy Wood down to its confluence with the river Tame which is the border with Bredbury and Cheshire.
Place names in Denton include, The City, Tom Croft, Dane Bank, High Bank, Burton Nook and Beat Bank, the latter also being spelt Beet Bank or Bight Bank. An indenture, dated the 30 December 1715, firmly placed Beat Bank in Denton. Place names in Haughton include, Thorpe Fold, Moorside, Broomstair, Glass House Fold, Moorfield, Betty's Park, Haughton Green, Lower Haughton and Haughton Dale. In 1884, Betty's Park became known as Tommy Dodd in celebration of the re-siting there of a lamp, nicknamed Tommy Dodd that formerly stood on the market place at Denton.
Denton Hall on Windmill Lane was originally owned by the Denton branch of the de Holland family but when the male line of this family died out in 1684 the hall passed by marriage to the Egerton family who were to become the Earls of Wilton. The area of land they owned was variable but it was about one third of the total land area of Denton. Later, they leased (or sold?) two thirds of the land they owned to two land proprietors, Miss Mary Woodiwis of Manchester and the Trustees of Ellis Fletcher who, prior to his death, owned the Clifton Estate in the Irwell Valley of Lancashire, with its substantial coal-mining interests. It is understood that the remaining land they owned was leased (or sold?) to another 25 land proprietors. In 1798(?) John Fletcher (1765/66-1846) made an indenture with another Denton land proprietor, William Hulton Senior, who transferred land and mining interests to him. John Fletcher was the uncle of Jacob Fletcher Fletcher.
Ellis Fletcher (the brother of John Fletcher) died on the 26 April 1834 and his son, Jacob Fletcher Fletcher, inherited the estates at Clifton and Denton which were managed by the Trustees of Ellis Fletcher. Jacob died on the 1 April 1857, aged 35 years, and the estates continued to be managed by Trustees on behalf of Jacob's daughter, Charlotte Anne Fletcher, who, by her second marriage in 1886, became Mrs Wynne Corrie. The legal and business arrangements between the Trustees of Ellis Fletcher, John Fletcher, Jacob Fletcher Fletcher and Charlotte Anne Fletcher (Mrs Wynne Corrie) were complex and are little understood at this distance in time from the events.
By means of example, the land upon which Victoria Park in Denton stands was formerly part of the Woodiwis Estate and on the 1 May 1886 it was purchased by the Denton & Haughton Local Board for £6,750. The area of land purchased was 8.375 acres.
A branch of the Hyde family owned some land in Haughton from the time of Edward IV (1442-83) until 1821, when John Hyde of Ardwick sold his estate to John Lowe of Shepley Hall and afterwards this descended to the Sidebotham family. In 1797, it is known that other principal landowners in Haughton were George Hyde Clarke and Nathan Hyde. By 1853, the principal landowners were Edward Hyde Clarke and Edward Lowe Sidebotham. Little is known about the early history of Haughton Hall but is understood that it was the residence of the Haughton family. During the reign of Elizabeth I (1588-1603) a Ralph Haughton received a grant of 22 acres of waste land. Two other inhabitants of Haughton were John and Nicholas Haughton who were assessed in 1645 for the upkeep of Denton Chapel. However, it is uncertain whether they were relatives of Ralph Haughton and they have no apparent connection with Haughton Hall. Subsequently, the hall was owned in succession by the Booth, Holford and Bentley families. The Barlow and Hulton families also owned land in Haughton as well as in Denton. In the 19th century, another Haughton landowner was James Walton (owner of Haughton Dale Mills/Wireworks) and it is likely that he purchased this from the Hyde Clarke family. In 1903, the landowners were Mrs Hyde Clarke, Edward John Sidebotham MB JP, of Bowden, Cheshire, and W E H Walton.
Hat manufacture and coal mining were the most prominent industries in Denton and Haughton. By 1902 the two townshipe were the largest hatting centre in the UK with 41 companies, including auxiliery companies, while Stockport was the next largest centre with 16 companies.
The hatting industry was centred around Wilton Street and some of the businesses were; Joseph Wilson & Sons, Wilde & Booth, H Burgess & Co, Marlor's Ltd, Joseph Howe & Sons, J & T Moores, Walker, Ashworth & Linney Ltd, James Bevan & Co Ltd, James Bromley & Co, N Wild & Sons Ltd, Joseph Woolfenden & Co and the Denton Hat Co.
The largest coal mine was Denton Colliery (Ellis Pit) on Stockport Road. Records of coal mining go back to 1743 but it is known that coal was being mined much earlier than this. Most of the earlier and smaller pits were situated in the township of Haughton but the names and whereabouts of some of these are now lost. In Denton an early pit was Hulme's Pit beside the river Tame at the foot of Beat bank which dated from c.1730. Two other pits were on opposite sides Stockport Road (formerly Stockport Lane) and these were Ellis Pit and Top Pit. These eventually developed into Denton Colliery which also operated Great Wood Pit situated about 525 yards south of Stockport Road off the later Cemetery Road.
In 1865, Joseph Oldham established a millwright and general-engineering shop, first in Newton, Hyde, and then he moved it to Denton, somewhere on Stockport Road near St Lawrence's Church. Subsequently, the business moved to the south side of Hyde Road before the final move to the north side. By 1887 the company was making machinery for the hatting industry. Shortly after 1887 it began making machinery and equipment for coal mining that included battery-powered portable miners' lamps. This developed into the production of automotive batteries for commercial vehicles, cars and motor cycles and over the years this expanded into traction batteries including submarine batteries. During the period of the Great War (1914-18) the company supplied shells for the war effort. After hatting, Oldham Batteries became the largest employer in Denton.
Since the 5 December 1992, Denton has been twinned with Montigny-le-Bretonneux, France, which is close to Paris on the south-west side, and since the 22 september 2012 the town has also been twinned with Kierspe, Germany, which is in the Märkischer Kreis district of North Rhine-Westphalia.

<!>