Denton is situated in the south east of the historic Lancashire County Palatine, six miles east south east of Manchester (British National Grid Reference SJ 92445 95526). In 1830 Denton was described as a Chapelry in the Parish of Manchester, Hundred of Salford. The neighbouring township of Haughton (BNGR SJ 93285 95614) was also described as being in the Parish of Manchester, Hundred of Salford. Both townships are situated on the south-eastern boundary of Lancashire County Palatine
On Monday, 25 August 1856 it was decided that Denton should adopt the Public Health Act and consequently, in 1857, a Local Board of Health was appointed. However it was not until Wednesday, 20 June 1877 that the neighbouring township of Haughton appointed a Local Board of Health. On Monday, 29 September 1884 the independent governances of Denton and Haughton came to an end when the two townships amalgamated under one authority known as the Denton and Haughton Local Board. This arrangement lasted until Monday, 25 June 1894 when the two townships were united with the name of Haughton being expunged, amid much acrimony. The local governing body henceforth became known as Denton Urban District Council.
The earliest record of Haughton is in the Final Concords For Lancashire, Part 1, 1189-1307. The name Haughton, spelt earlier as 'Haighton' and 'Halcton', is of Old Scandinavian/Old Danish origin. The township of Haughton includes Haughton Green, Haughton Dale and Lower Haughton.
Location of Denton (& Haughton) in the Lancashire County Palatine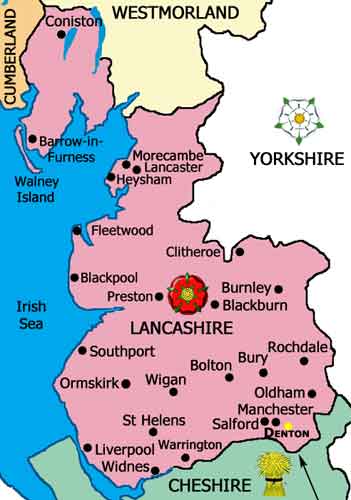 Lancashire Day
Lancashire Day is the 27th day of November
On this day in 1295 representatives from Lancashire were given a 'Writ of Summons' by King Edward I to attend a gathering at Westminster that was to be England's first legally elected legislature. Later, this gathering (or Commons) became known as the 'Model Parliament' because it marked the beginning of democracy in England.
Altogether 292 members of the Commons were elected from all over England and they were comprised of:
Two knights from each shire
Two burgesses from each borough
Two citizens from each city
Seven earls
42 barons
One proctor from each cathedral
Two clergy from each diocese
King Edward I presided over the Commons.
The Duchy of Lancaster is still a legal entity that embraces all of the counties of Lancashire, Greater Manchester and Merseyside and also includes some areas formerly in Cheshire and the West Riding of Yorkshire. The reigning Sovereign is the Duke of Lancaster.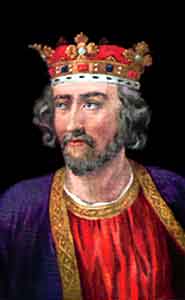 King Edward I
Arms of the County Palatine of Lancaster
Arms of the Duchy of Lancaster
On the 30 June 1267 Henry III created his son, Edmund Crouchback, as the 1st Earl of Lancaster. In 1351 Henry of Grosmont, 4th Earl of Lancaster, was made the 1st Duke of Lancaster and was also granted palatinate powers, that is, royal powers (or powers belonging to the palace). These powers lapsed with Henry Grosmont's death on the 23 March 1361 but on the 13 November 1362 they were restored to the most famous Duke of Lancaster, John of Gaunt, son of Edward III and were made hereditary. John of Gaunt was succeeded by his son, Henry Bolingbroke, who became Henry IV on the 30 September 1399. Ever since 1399 the title of Duke of Lancaster has been held by the reigning Sovereign.