Upper Peak Forest Canal
Strines Aqueduct & Wharfs
The Tithe Map of 1850 shows that the land directly surrounding Strines Aqueduct was owned by Wilbraham Egerton, as part of the Strines Hall estate, and the occupier was Charles Robinson & Company. The aqueduct carries the canal over Peeres Road, which connects Strines and Turf Lea. Here the Strines Printing Company built two wharfs on the offside of the canal. The one to the north of Peeres Road was a coal wharf that incorporated a wrought-iron coal chute so that coal could be dropped directly into carts waiting on the road. Following the opening of the Macclesfield Canal in 1831 it became possible for coal to be brought here from the coal mines around Poynton. The one to the south of the road was a general goods wharf and it was provided with a crane. The house on the road, adjoining the aqueduct, was for the wharfinger and access to it could be gained from both road and wharf levels.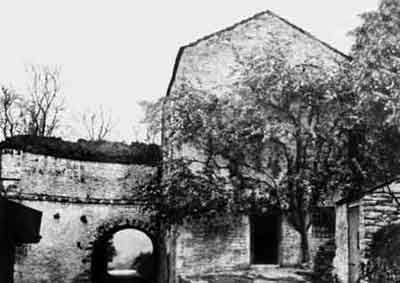 Strines Aqueduct and Wharfinger's House, 1920s.
The Strines Printing Company's wharfs were located here and the wrought-iron structure on the left is a coal chute that enabled carts to be loaded with coal from the wharf above.
Today, there is no visible trace of the house on the right but the stone wall where the coal chute was situated is still extant.