Railway Diversion at Bugsworth
Midland Railway
In the wet autumn of 1866, the recently opened Midland Railway line through Bugsworth (then connecting Derby and Manchester) began to slip down the valley side towards the Black Brook. Altogether, some 16 acres of land were caught up in the slip. The line had been built on glacial sands and boulder clay overlying shale and sandstone. The most vulnerable structure affected was a five-arched viaduct where cracks were observed, followed by movement. The viaduct was declared to be unsafe and was replaced by a temporary trestle bridge constructed alongside the viaduct on its northern side. This contained some 50,000 feet of pitch pine from the Baltic. This structure stood from 1866 until 1885. The line was permanently diverted to the rear (north side) of Bugsworth Station, which then made it back-to-front. The diversion required an embankment to be constructed through Brierley Green that required 32,000 tons of stone, clay and earth as well as 25,000 tons of ashes. The line was re-opened in February 1867.
This plan is based on one produced by the Midland Railway Company in the 1890s.
It shows how their railway line through Bugsworth was diverted to the rear (north side) of Bugsworth Station following a land slip in the autumn of 1866 that caused a five-arched aqueduct to become unsafe and require demolition. This is shown to the east of Bugsworth Station, the original route of the line being shown by a dotted line.
The plan shows a signal box (SB) beside the station and a tank used to replenish the water tanks of locomotives. This was filled by pumping water up the valley side through a pipe from a well by the entrance to a small gritstone quarry.
Bugsworth Station was closed permanently by British Rail on the 15 September 1958.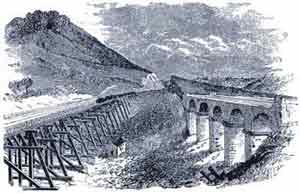 An etching showing a temporary trestle bridge on the left and the original viaduct on the right, prior to its demolition
Thirty-five years later, in 1902, the number of tracks was increased from two to four to cater for increased traffic. Consideration was given to the possibility of either building a second tunnel at Bugsworth or demolishing the original tunnel to create a wide cutting but eventually the latter option was chosen. This resulted in Bugsworth Tunnel, to the west of Bugsworth Station, being demolished and replaced by a wide cutting but the northern side wall of the tunnel was retained to act as a retaining wall. This work also entailed the construction of a massive blue-brick retaining wall, comprised of blind arches, where the railway line and New Road, between Bridgemont and Bugsworth, are juxtaposed.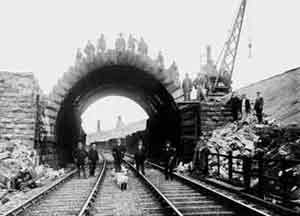 The demolition of Bugsworth Tunnel, 1902.
This photo shows the north portal of the tunnel prior its demolition on Sunday, 10 August 1902.