Apethorn Aqueduct over lane to former Gibraltar Mill
Apethorn Aqueduct, Hyde, seen from the offside of the canal, 19 February 2006.
On the left-hand side, there was once a coal chute from the canal, which was used to load carts with coal.
This is an important feature of the canal and it is known that Thomas Brown, the Resident Engineer, personally oversaw its construction during 1795 and 1796.
Here the canal follows a double continuous curve in order to cross over a deep vale, the aqueduct being necessary to maintain access to the former Gibraltar Mill.
Hatherlow Aqueduct over Green Lane
Hatherlow Aqueduct, Romiley, 26 February 2006.
Seen from the offside of the canal.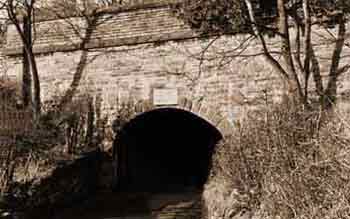 Chadkirk Aqueduct, Chadkirk Road
Chadkirk Aqueduct, Romiley, 9 February 1978.
Seen from the towpath side of the canal.