Samuel Oldknow
(1756-1828), Businessman
His house and mill on Upper Hillgate, Stockport,
(later owned by the Christy family of hat
manufacturers) and Mellor Mill
Born at Anderton, Lancashire, Samuel Oldknow served an apprenticeship in his uncle's drapery business in Nottingham. In 1784 he moved to Stockport and bought a house and warehouse on Upper Hillgate where he established a cotton mill for the manufacture of muslin. His move to Stockport was made in order to expand the muslin manufacturing business he had initially established in Anderton in 1782. In Stockport he installed spinning mules, invented by Samuel Crompton in 1779, and looms, the mill being powered by a Boulton and Watt steam engine. Muslin is a finely-woven unbleached or white cloth produced from twisted yarn and mainly used to make curtains, sheets and dresses.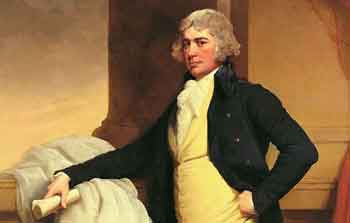 Samuel Oldknow.
Commencing in 1790, he built Mellor Mill, to the south of Marple Bridge, for mule spinning. At the same time he became the principal promoter for the construction of the Peak Forest Canal and Tramway to supply limestone and coal to a battery of lime kilns that he built in Marple.
Oldknow was a highly motivated and ambitious man who wanted to expand his business interests but, as he was lacking in financial skills, he was unable to raise capital in London where he sold his textile products. Consequently, he turned to his friend, Richard Arkwright Junior of Cromford, for substantial loans, which were granted to him.
In 1794, Oldknow sold his mill on Upper Hillgate, Stockport, to William Radcliffe of Mellor. Eventually, these premises closed as a mill and hat manufacturers, Christy and Company, occupied the site. The hat works remained open until 1997 following which it was demolished but Oldknow's house was left standing.
Although the doors and windows of the house were boarded up, it began to suffer from the effects of vandalism and the weather and soon it was in a state of disrepair. However, as a result of the Hillgate Townscape Heritage Initiative Scheme, supported by the Heritage Lottery Fund, the Hillgate Regeneration Scheme commenced and the house was saved. Because of its historic importance and connection with Samuel Oldknow, the house is now listed as a Grade II building. It has now undergone a sensitive restoration by Fairclough Homes and on completion it contained seven apartments.
Prior to the commencement of the development, an archaeological survey of Oldknow's muslin mill site was undertaken. A number of interesting finds were made, including the remains of the original engine house. The mill foundations were also revealed and all artefacts, including clay pipes, have been placed in the care of Stockport's Heritage Services for display at the restored Staircase House in the Market Place.
Samuel Oldknow's website » 
<!>
Samuel Oldknow's house on Upper Hillgate, Stockport, undergoing restoration and conversion,
20 May 2007.

<!> <!>