Cruck-framed Building
Formerly part of Newton Hall,
Hyde, Tameside
This cruck-framed buildings, stands on the corner of Dukinfield Road and Dunkirk Lane in Hyde, Cheshire. Carbon dating placed the construction of this building to c.1370 and it survived because much later it was encased in a brick building having a blue slate roof. By the 1960s it was in a ruinous condition and in 1968 Sir George Kenyon, the Chairman of William Kenyon & Sons Ltd of Dukinfield, Cheshire, rescued it. Browns of Wilmslow undertook the restoration work and this was completed in 1970.
The cruck blades used in its construction spring directly from the ground sills and these support the roof timbers. About 35% of the timbers in the building are original and all replacement timber was of English oak. One of the greatest difficulties encountered was in searching England for wind-swept oak trees of the correct shape and then in obtaining permission to fell them. Over 1,200 oak pegs were needed to complete the frame.
Small windows are typical examples of 14th century buildings and shutters, often referred to as 'window doors', closed these on the inside.
During the restoration work, a large glass panel was inserted into one side the purpose of this being twofold. It allows sufficient light into the hall so that it can be used for modern purposes such as holding conferences, seminars and meetings and it also allows the construction of the building to be viewed from the outside. It now has a stone flag floor with under-floor heating, whereas originally it would have had an earthen floor.
The building was listed Grade II on the 22 December 1969, List Entry No. 1162410.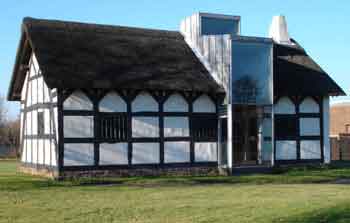 Cruck-framed building, 29 January 2006.
It is suspected that the Roman road which connected the Roman garrison town of Mamucium (Manchester) and the fort of Ardotalia (Melandra) at Gamesley, Glossop, may have crossed the river Tame close by the site of the future Newton Hall in the vicinity of Broomstair Bridge on the A57 road. Indications are that a Roman coin of Commodus (AD 180-193) was found under the bridge and an adjacent field is called 'Causeway Field'. The Roman road would then have followed the course of the A57 for a short distance into Hyde but beyond that the route eastwards to Ardotalia is uncertain. To cross the Pennines to the east of Ardotalia the Romans may have used an ancient British ridgeway, which was in use until medieval times as a packhorse road.
The land on the valley side between the Lower Peak Forest Canal and the river Tame was reclaimed many years ago for recreational purposes. It was landscaped, planted with trees and its ancient name of Jet Amber Fields was revived. Nowadays it is much used by walkers and a small car park has been provided just below Newton Hall Bridge on the Lower Peak Forest Canal.