Throstle Bank and Kettle Dock were situated on the offside of the canal between Newton Hall and Throstle Bank Bridges, Flowery Field, Hyde. Throstle Bank consisted of two rows of terraced houses set at an obtuse angle to each other. Later, Dukinfield Road was constructed between them.
Referring to the Tithe Map, the land to the north of Kettle Dock is referred to as 'Coal pit banks, waste land, pasture and garden'. This suggests that prior to the date of this map (1841) that waste material from coal pits was disposed of in this area and four suspected pit shafts have been identified on the map. The land to the south of the dock is referred to as 'Kettle Dock and Stone Pit Field'. This information supplies the name of both the dock and of a named pit but the location of this is unknown. The siting of Kettle Dock suggests that it was used as a loading stage where boats could be filled with coal from a number of shallow pits in the vicinity.
At the time of this map the landowner of 'Kettle Dock and Stone Pit Field' was Edward Hyde Clarke and the occupier was Thomas Ashton Senior. Edward Hyde Clarke resided at Hyde Hall, a short distance to the south, while Thomas Ashton Senior (1775/6 - 1845) was the founder of the textile industry in Hyde, based at Flowery Field.
The life span of these pits was probably quite short and by 1841 it seems that they were all closed. It is a matter of conjecture that their opening coincided with the opening of the Lower Peak Forest Canal in May 1798.
By c.1875, a building had been erected over the site of Kettle Dock fronted by a wharf, so the dock was filled in to enable this to be constructed. To the south, Flowery Field Wharf and Throstle Bank Mill (cotton) had been built on 'Kettle Dock and Stone Pit Field' and it is very likely that some mill buildings were extant on this field prior to 1841 even though they are not shown on the map. Both the wharf and mill belonged to Ashton Brothers & Company, the brothers being Samuel and Thomas, the sons of the founder, Thomas Ashton Senior.
Nowadays, the name of the mill survives in Throstle Bank Street and Throstle Bank Works. It is likely that the mill got its name from the use of the throstle spinning frame, which was an early type of ring spinning frame introduced in c.1810 and known to have been in use by 1813. The frame was so called because of the noise it made, which was said to resemble the singing of a throstle (thrush). These frames were used for the continuous drawing, twisting and winding of cotton simultaneously onto banks of up to 300 or 400 bobbins.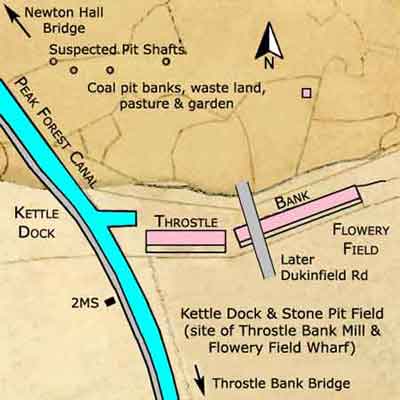 Throstle Bank & Kettle Dock
Lower Peak Forest Canal
Tithe Map: 1841
Courtesy: Cheshire Archives & Local Studies