Lower Peak Forest Canal
Newton Hall Bridge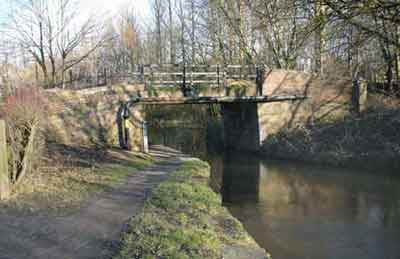 Newton Hall Bridge.
Newton Hall Bridge (No. 4), looking towards Dukinfield, 29 January 2006.
Newton Hall Bridge was built to carry an ancient right of way between Dukinfield and Mottram in Longdendale over the canal for a second time, the first being at Dukinfield Hall (or Well) Bridge (No. 3). Nowadays it provides access to Dunkirk Farm from Dukinfield Road.
Because of mining subsidence the original arch and parapets were lost and the bridge has had to be repaired on several occasions. The deck of the bridge is now of reinforced concrete while the parapets have been replaced by steel rails. Unfortunately, this bridge is now unsightly but it was necessitated by the need to simplify any future repairs.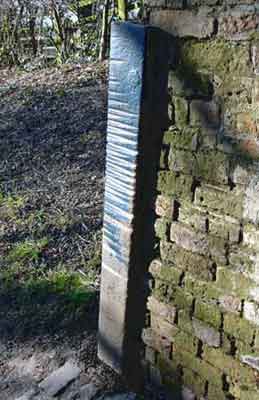 Iron soffit guard.
An iron soffit guard on Newton Hall Bridge, 29 January 2006.
Iron guards were often fitted to bridge abutments to prevent grooves being worn in brick or stone work of bridge abutments by towropes as horses passed under bridges.