Hyde Lane Colliery & Peacock Pit
Tithe Maps
The tithe maps for Hyde Lane Colliery and Peacock Pit show that at this time both were occupied by Thomas Brown and William Clayton, the former being the Resident Engineer for the Peak Forest Canal Company. Peacock Pit was situated about 520 yards due south of Hyde Lane Colliery close to the Peak Forest Canal. The land on which they stood was then owned by Edward Hyde Clarke, the half brother of Captain Hyde John Clarke JP RN.
The tithe map of Peacock Pit shows a short tramway between the pit and offside of the canal with a building beside it. The date of closure of Peacock Pit is uncertain but it was disused by 1872.
The minute books of the canal company record that in 1833 there was a meeting on site at Peacock Pit to discuss getting coal from under the canal. It was recorded that '···· it appeared from the precipitous nature of the Ground and from the very little depth which the Coal lies under (the canal) that it would not be safe to get the Coals.' In this instance the canal company agreed to pay to keep the coal in the ground.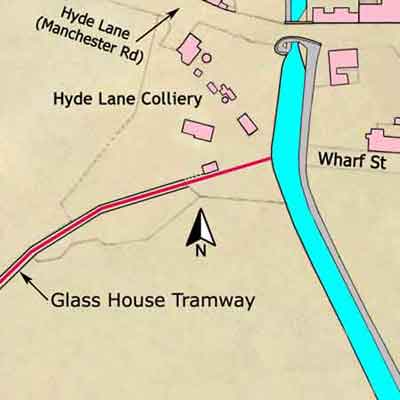 Hyde Lane Colliery
Lower Peak Forest Canal
Grid Ref: SJ 942 950
Tithe Map: 1841, Ref: EDT 217/2
Courtesy: Cheshire Archives & Local Studies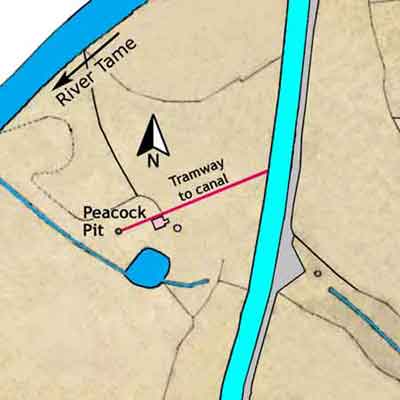 Peacock Pit
Lower Peak Forest Canal
Grid Ref: SJ 942 945
Tithe Map: 1841, Ref: EDT 217/2
Courtesy: Cheshire Archives & Local Studies