Manufacturers of Red Terracotta Ridge Tiles, Rope Garden Edging Tiles, Air Grids, Chimney Pots, etc., Sanitary Pipes, Gullies, Fire Bricks and All Fittings.
Established: 1792
Closed: 1967
Demolished: Around Easter 1969
The Dukinfield Estate (Francis Dukinfield Astley, 1781-1825) contained large deposits of fireclay and coal and in 1792 the Estate Brickworks was founded from which John Hall & Son (Dukinfield) Ltd evolved. The Estate Brickworks passed to Robert Hall who was the son of John Hall and Betty. Robert was christened at St Michael's Church, Ashton-under-Lyne, on the 27 February 1780. It is likely that the role of John Hall was to manage the Estate Brickworks on behalf of Francis Dukinfield Astley before full control passed to Robert Hall. It is unclear who controlled the business after Robert Hall but eventually it passed to Samuel Haughton and in 1908 he converted John Hall & Son into a private limited company. The company subsequently passed to Harry Haughton I who lived at Llandudno Junction and travelled daily to Dukinfield. When he died in c.1955 Charles Haughton took control but he died in Hyde in 1959, aged 64 years. Following his death, control passed to Harry Haughton II and Herbert Haughton who remained in office until closure of the company in 1967.
Until road transport became more economic, most of the company's products were transported by canal and in 1888 a company wharf was established on Meadow Street, Ancoats, Manchester. The facilities here included a covered area where boats were unloaded and loaded, a sales office, two store rooms and an extensive open wharf storage area. Until 1936 the company owned two boats and three horses. Two horses hauled boats while the third was used for duties around the works in Dukinfield. Other boat hauliers were also used.
Products were boated from Dukinfield to Manchester until the 1940s, after which time a lorry carried a daily load into Manchester. This service continued until 1958 when the company wharf in Manchester was closed. Besides carrying goods into Manchester, these boats also carried fireclay, coal and red marl to Dukinfield from the Clarence Fireclay Mine in Adlington. The marl was used to make terracotta ware such as chimney pots, drain pipes and tiles.
The mine was situated in fields close to the Macclesfield Canal. The company had its own wharf on the offside of the canal near Bollington situated between Sugar Lane Bridge and Clarence Mill, 7 miles 34 chains from Marple Junction. The Ordnance Survey Map for c.1910 shows an 'Old Shaft' near Clarence Mill and a 'Clay Shaft' a short distance away in the fields.
The fireclay mine was owned by John Hall & Son and it was worked between 1911 and 1937. Mining records for 1918 show that five men were working underground and two were working above ground and at the time of closure in 1937 there were three working below ground and one above ground. In operation, an adit was built that led to the clay shaft located higher up the hillside and this allowed loaded tubs to be hauled down to the wharf by horses.
To begin with, both fireclay and coal were obtained from the Dukinfield Fireclay Mine, which was situated near St Mark's Church (at the corner of Church Street and West Street), a short distance from the Fireclay Works. A tramway connected the mine to the works. When this mine became flooded both materials were obtained from Dunkirk Colliery about 700 yards to the south of the works. As stated above, raw materials were also brought in from the Clarence Fireclay Mine. After 1950, fireclay was obtained from a mine below Hartshead Pike, Ashton-u-Lyne, and during the 1960s, until closure, it was also supplied from source near Newhey in the Milnrow area of Rochdale.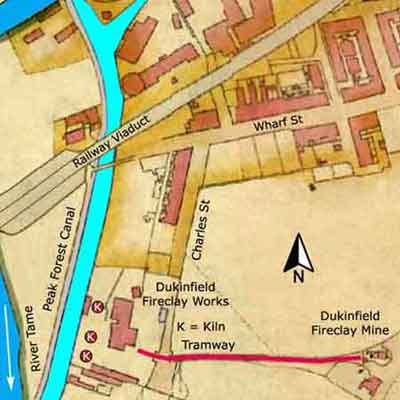 John Hall & Son
Fireclay Works & Fireclay Mine
Lower Peak Forest Canal
Courtesy: Cheshire Archives & Local Studies
Fireclay was supplied to the works in large lumps that had to be broken down and ground to a fine powder before mixing. It was a grey colour, which turned to a buff colour during firing.
For the manufacture of terracotta ware the company used marl, typically Kingsley marl (from marl pits near the village of Kingsley in Cheshire), blue marl (source unknown) and red marl, the latter being mined at their Clarence Fireclay Mine. Marl (or mudstone) is formed from a lime-rich mud containing variable amounts of clay and silt. It looks like flaky coal shale and it had to be ground to a fine powder before mixing. These marls turned to a terracotta colour during firing.
Seven kilns were used for firing ware and these were comprised of five beehive (round) kilns and two rectangular kilns. Of the beehive kilns, there were four small single entry kilns, used for loading and unloading purposes, and one large double entry kiln. Both rectangular kilns were single entry.
In 1956 there were 80 workmen but this had reduced to 25 by 1960 due to a decline of trade.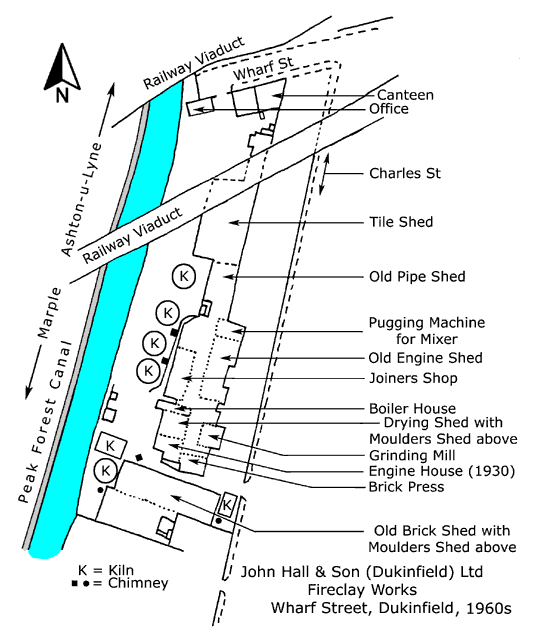 Below are two drawings that illustrate the types of terracotta ware that the company manufactured.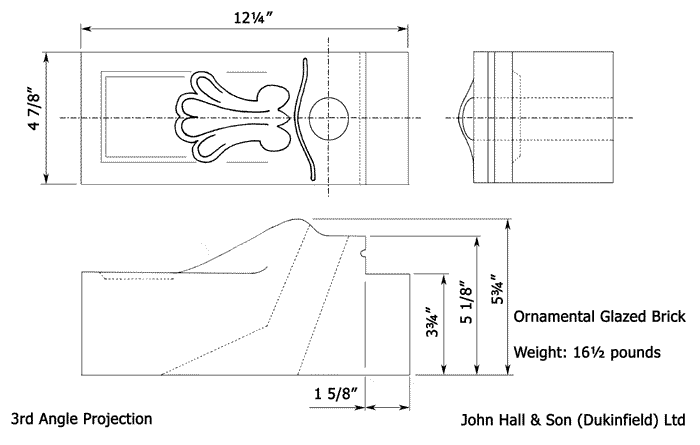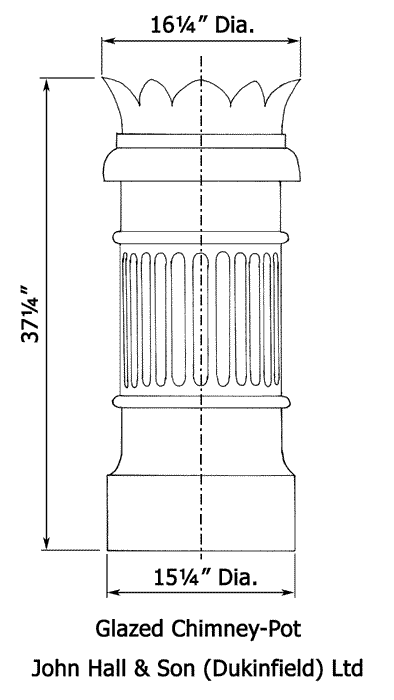 Fireclay
Fireclay is a particular type of clay used to manufacture a range of ceramic products, especially fire bricks, mined at depth and usually found as a seatearth associated with coal measures. Chemically, its composition is principally aluminium oxide with a proportion of silica oxide and a small amount of impurities. In its finished form it is resistant to high temperatures with a fusion point of around 1,600ºC, which makes it suitable for lining furnaces, crucibles and kilns.

It is known that John Hall supplied products for use at Bugsworth Canal Basin, these being conveyed by boat along the Peak Forest Canal. For example, the pots of the New Road lime kilns were lined with fire bricks manufactured by them.

The Manchester, Sheffield and Lincolnshire Railway Company operated the limestone crusher house at Bugsworth Canal Basin in order to manufacture ballast for use on their expanding railway network. The stone crusher was powered by a steam engine, the steam being raised by a Lancashire boiler. In connection with this, the railway company purchased fire bricks from John Hall and presumably these were used for lining purposes in the boiler house.

<!>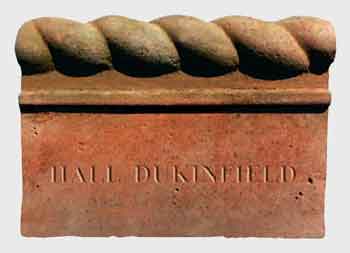 <!>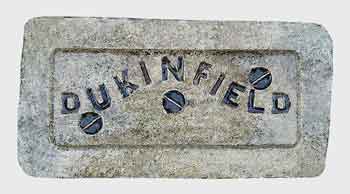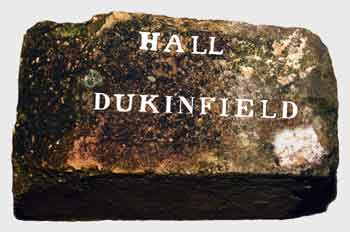 Top: Facsimile of a terracotta rope garden edge tile manufactured by John Hall & Son.
Left: Fire brick manufactured by John Hall & Son.
Right: Voussoir (wedge-shaped) fire brick manufactured by John Hall & Son in the
19th century for the purpose of lining the interior of lime-kiln pots.

<!>

References
Following the nationalisation of the coal industry on the 1 January 1947, John Hall & Son (Dukinfield) Ltd was granted a licence to continue in business as the owner of a small mine. This licence was issues under Section 36(2)(b) of the Coal Industry Nationalisation Act of 1946. National Archive Ref. COAL 35/29.
Clarence Fireclay Mine, Adlington: Plans showing the location, distances, direction and depth of workings, c.1938. Records held by Cheshire Archives and Local Studies. Named seams at Clarence Fireclay Mine were: Sweet Mine and Stone Mine while the red marl workings appear to be unnamed.