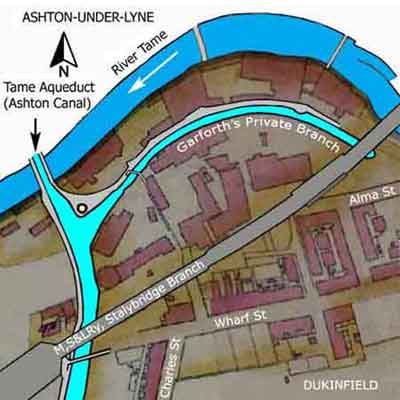 Garforth's Private Branch
Lower Peak Forest Canal
Tithe Map: 1850, Ref: EDT 143/2
Courtesy: Cheshire Archives & Local Studies
Garforth's Private Branch took its name from Messrs W. J. & J. Garforth, whose premises were situated alongside this branch in Dukinfield. The partnership consisted of three brothers, William Garforth (1799/1800-1874), John Garforth (1803/04-1850) and James Garforth (1805/06-1876), who were all born in Yorkshire. At some point the Garforth family moved to Dukinfield to establish their business, initially as John Garforth & Sons. They operated as engineers, ironfounders and cotton spinners. On the 21 August 1850, John Garforth resigned from the business and died shortly afterwards.
The 1851 census records that William and James were both living on Wharf Street, Dukinfield. It also informs that the business was organised in two parts, employing 80 mechanics and iron founders in an engineering works and 60 men, 83 women, 20 boys and 40 girls in a cotton spinning mill.
In 1856 this company ventured into coal mining when it commenced sinking shafts at Lord's Fields, Ashton-under-Lyne, and Benjamin Miller was appointed as the superintendent of works. This opened on the 27 Jan 1858 as the Lords Field Company, later becoming the Lords Field Colliery Company. The 1861 census records that Benjamin Miller (1805/06-1875) was born in Yorkshire and that he was living in Turner Street, Ashton-under-Lyne, which is close to the colliery on the opposite side of the railway line. He recorded his occupation as a colliery underlooker. Lords Field Colliery was located near the modern placename of Cranbrook Gardens off the east side of Oldham Road.
The opening of the colliery was reported in the Manchester Courier and Lancashire General Advertiser, Saturday, 30 Jan 1858.
*Notwithstanding this newspaper report there is evidence that Lords Field Colliery was already open. A coal mine accident record, dated 24 May 1855, states that a William Wilde was then the proprietor of Lords Field Colliery. It is, therefore, likely that this newspaper report records the sinking of new shafts to a greater depth in order to increase productivity and the change of ownership from William Wilde to the Garforth brothers. In 1871 William Wilde (1798/99-16 Jan 1880), a proprietor of land and houses, was resident at Yew Tree House, Yew Tree Ln, off Cheetham Hill Rd, Dukinfield.
The underground spring water mentioned in the newspaper report finally proved to be an insoluble problem to control as the workings were subjected to constant flooding and consequently Lords Field Colliery closed in 1875.
Known fatalities at Lords Field Colliery, 1860-72
In Memoriam
25 Jun 1860: Thomas BRIERLEY, 26 years. Fall of bin (waste heap) in Great Mine.


(Tameside Register Office, Ashton Town, AST/40/47)

12 Feb 1861: Thomas CROSSLEY, age unknown. Fall of roof coal.


(General Register Office, March Quarter 1861, Ashton 8d/279)

9 Apr 1861: Jarvis HAGUE, 57 years. Fall of earth in the mine. He died in Manchester Infirmary.


(Manchester Central Library, Market Street, MST/69/198)

26 Feb 1863: George ROWBOTHAM, 52 years. Died from injuries received from a falling roof on the 30 December 1862.


(Tameside Register Office, Ashton Town, AST/46/5)

25 Sept 1864: Alfred JACQUES, 27 years. Died from burns received in an explosion of firedamp in the Roger Mine on the 25 July 1864.


(Tameside Register Office, Ashton Town, AST/48/66)

14 Dec 1864: James KENYON, 30 years. Coal falling in the Great Mine while mining without sprags set.


(Tameside Register Office, Ashton Town, AST/48/98)

14 Dec 1864: William STOFORD, 20 years. Coal falling in the Great Mine while mining without sprags set.


(Tameside Register Office, Ashton Town, AST/48/98)

17 Apr 1866: Samuel DAWSON, 17 years. Waggoner. Explosion of firedamp in Roger Mine.


(Tameside Register Office, Dukinfield, DUK/43/24)

24 Nove 1866: Joshua GODDARD, 41 years. Fall of roof at working place in the Great Mine.


(Tameside Register Office, Ashton Town, AST/52/78)

28 Aug 1867: Arthur SLATER, 21 years. Crushed by waggon which drove the post away and came against him in the face of the down brow.


(Tameside Register Office, Ashton Town, AST/54/23)

26 Apr 1869: John GOULDING, 27 years. Dayman. Crushed by stone which fell from roof and slid 110 yards upon the rails down the engine brow to where he was at work. His assistant escaped into a refuge.


(Tameside Register Office, Ashton Town, AST/58/15)

21 Mar 1870: John Thomas WORTHINGTON, 17 years. Waggoner. Roof fall in Great Mine.


(Tameside Register Office, Ashton Town, AST/59/90)

30 Jul 1872: Roger HANDLEY, 16 years. Hooker-on. Crushed by laden waggons running back in a shunt, the engine not being properly in gear.


(Tameside Register Office, Ashton Town, AST/64/8)

11 Dec 1872: Joseph WHITTAKER, 35 years. Fall of dirt from the side of his working place in the Great Mine. He had been twice told by the fireman to take it down.


(Tameside Register Office, Ashton Town, AST/64/78)