Lower Peak Forest Canal
Dog Lane Basin
In 1850 Dog Lane Basin at Dukinfield was still operational and coal from the original Dewsnap Colliery was still being loaded into boats there. Coal was transported to this basin by a tramway running down Globe Lane, which also supplied coal to a loading stage on Ashton Street and to a factory or mill adjoining Dog Lane Bridge.
However, all this was soon to change. Dewsnap Colliery was closed to make way for the Dewsnap Sidings of the Manchester, Sheffield and Lincolnshire Railway Company and a replacement shaft was sunk a short distance away called Dewsnap New Pit (better known as Dewsnap Pit). Almost simultaneously, the shaft of Astley's New Pit (better known as Astley Deep Pit) was sunk nearby off King Street and both of these pits were connected by tramways to the newly built Dewsnap Basin and Loading Stage. Once Dewsnap Basin had become operational, Dog Lane Basin was abandoned and today there is no trace of it on the ground.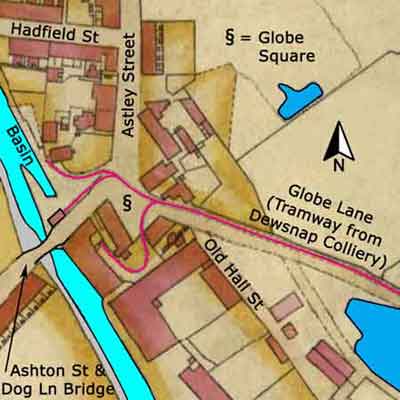 Dog Lane Basin
Lower Peak Forest Canal
Grid Ref: SJ 933 971
Tithe Map: 1850, Ref: EDT 143/2
Courtesy: Cheshire Archives & Local Studies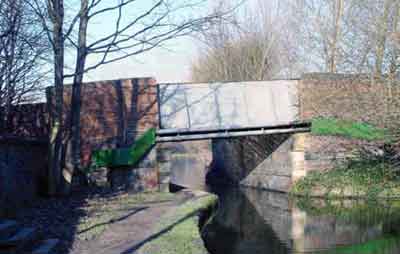 Dog Lane Bridge (No. 2), 14 January 2007.
Dog Lane Bridge was built to carry an ancient right of way between Dukinfield and Audenshaw over the canal.
Because of mining subsidence, it has had to be lifted and rebuilt on a number of occasions. The present bridge is of iron-plate construction, resting on abutments built of brick and stone, with a width of 16 feet 6 inches. It now carries Ashton Street over the canal and steps lead down from the street to the towpath.