Lune and Garstang Aqueducts
Lancaster Canal
Lune AqueductThis aqueduct was built by the Scottish surveyor and engineer, John Rennie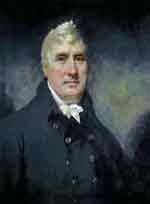 (1761-1821), and it is said to be his finest aqueduct and one of his largest. Its overall length and height are 600 feet by some 60 feet and it has five semi-circular arches, each on 70 feet centres, which carry the canal about 51 feet above the river Lune. It was constructed of local sandstone and along both sides there is a deep Doric cornice on top of which stands a parapet with groups of three balusters over the centre of each arch, which helps to blend the aqueduct into the north Lancashire landscape. The water channel was lined with clay puddle, about 3 feet thick, over which there was a lining of stone.

Construction began in January 1794 and by July there were around 150 men working on it night and day. It was completed in the autumn of 1797. Its builder was the Scotsman, Alexander Stevens (1730 - 1796) who may have collaborated with Rennie in the detail design, which produced a subtle combination of elegance and functional simplicity. Stevens died before the aqueduct was completed and his son finished the work.

<!>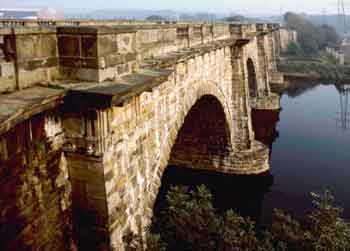 Lune Aqueduct near Lancaster, 1985.
In 2010 it was recognised that this magnificent Grade I aqueduct of the Georgian period was in poor condition and that it should be restored. Consequently, the restoration project cost £2.4m which was funded by British Waterways, Lancaster Canal Trust, English Heritage and the Heritage Lottery Fund. Restoration work commenced in January 2011 and was completed in March 2012. It involved masonry repairs, renovating the aqueduct water channel and improving public access.
Garstang Aqueduct
This aqueduct was built by John Rennie and it carries the Lancaster Canal over the river Wyre at Garstang. The design of this masonry aqueduct is similar to the larger Lune Aqueduct in that along both sides it has a deep Doric cornice.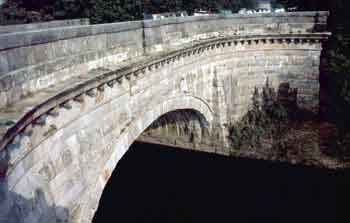 Garstang Aqueduct, 1985.