History
Ordnance Survey maps of Denton show that there was a brick works on the south side of Windmill Lane early in the 20th century. In 1922 this was owned John and Thomas Harrison and in the same year the company of J & A Jackson Ltd was incorporated. At this time the Harrison and Jackson families dominated brick making in the surrounding area. The two families were connected by marriage in 1904, when Elizabeth Harrison, the eldest daughter of Walter Harrison, married Joseph Jackson, son of the late Thomas Jackson, who died in 1901, but in spite of this the family companies continued to operate independently of each other.
Parish Church of St Mary, Cheadle, Cheshire 23 February 1904
Name
Age
Occupation
Residence
Father's
Name
Father's
Occupation
Thomas JACKSON
23
Brick Maker
East Street,
Longsight
Thomas JACKSON
(deceased)
Brick Maker
Elizabeth HARRISON
22
Lady Bridge Road,
Adswood, Cheadle
Walter HARRISON
Brick Maker
The witnesses were Arthur JACKSON and Ann(e) JACKSON
Following this marriage, the next rational step was to unite the companies of the two families but this was not to come about until 1922.
J & A Jackson Ltd was incorporated on the 7 April 1922 and the directors were, Joseph Jackson (Chairman), John Harrison, Thomas Harrison Sr, Thomas Harrison Jr, Walter Harrison, James Harrison, Frederick Towns and J R Hesketh, the latter two directors being the solicitor and auditor, respectively. It will be seen that the Harrison family had a majority on the board and the position of Arthur Jackson, Joseph's brother, is uncertain. The last member of the Jackson family to be involved with running the company was Thomas Jackson who resigned as the company secretary in 1935.
At the time of incorporation the two families owned seven brick works between them. Joseph Jackson owned works at Chorlton and Levenshulme, John and Thomas Harrison owned works at Bredbury (Lingard Lane), Denton (Windmill Lane) and North Reddish (Harcourt Street), John Harrison owned one on Pink Bank Lane, Levenshulme, while Walter Harrison owned one at Adswood, Cheadle. The company's registered office was on Pink Bank Lane.
From the start, the company rapidly expanded and by 1948 it owned some 18 works in the Greater Manchester area. An associated brick works to the one in Denton was in Hooley Hill, Audenshaw, at the bottom of Enville Street and this was located in the angle formed by a fork in the London and North Western Railway for their Stockport and Guide Bridge and Denton and Dukinfield lines, respectively. The site severed Groby Road and Saxon Farm lay to the north. In 1957, Saxon Farm was demolished to enable more clay to be extracted.
Additionally, the company acquired works outside the area and ultimately there were two in Lancashire, four in Cheshire, two in Merseyside, one in Derbyshire at Glossop, one in the West Midlands and one in Essex.
In the early 1920s the company used Foden steam-driven lorries to deliver bricks and later these were supplemented and then replaced by petrol-driven lorries.
Due to the low carbon content of the local boulder clay used to make bricks, the kilns consumed an excessive amount of coal. To reduce the amount of coal used and as an aid to firing, waste shale was bought from nearby Bradford Colliery, which was then crushed to a powder at the Levenshulme works and then mixed in with the clay in the desired proportion. In some areas powdered anthracite was used instead. Either way, this additive was usually known as 'breeze'.
In 1973 ownership of J & A Jackson Ltd passed to Christian Salvesen, a private Scottish company, and its name was changed to Salvesen Brick Ltd. In 1986 the parent company became Salvesen plc and nowadays the parent of this company is Norbert Dentressangle.
In 1994 Christian Salvesen decided to sell their brick manufacturing interests and this resulted in a management buy-out of Salvesen Brick Ltd. In 1995 the name was changed again to Chelwood Brick Ltd, a name coined from the company's location in Cheadle on Adswood Road.
The works of J & A Jackson Ltd on Windmill Lane, Denton, known locally as Jackson's Brick Works, is no longer extant and the huge clay pits have been filled in. However, Chelwood Brick Ltd still have a presence on the site, which is now known as Windmill Lane Spade Works and this stands on the corner of Windmill Lane and Denton Hall Farm Road. Bricks are still manufactured here but the raw materials are brought in from elsewhere. The name 'Spade Works' is derived from a medieval spade, believed to date from the 14th century, that was discovered when the site was first opened.
1901 Census
Thomas Jackson, North Road, Longsight
Name
How Related
Status
Age
Occupation
Where Born
Thomas Jackson
Head
M
59
Brick Maker
Manchester, Lancs
Ann Jackson
Wife
M
58
Salford, Lancs
Ann Jackson
Daur
S
25
Cheetham, Lancs
Joseph Jackson
Son
S
20
Clay Worker, Brick
Making
Moss Side, Lancs
Arthur Jackson
Son
S
18
Clay Worker, Brick
Making
Moss Side, Lancs
Esther Grundy
Servant
S
19
General Domestic
Servant
Hollingworth, Lancs
1901 Census
Walter Harrison, Broom Lane, Levenshulme
Name
How Related
Status
Age
Occupation
Where Born
Walter Harrison
Head
M
37
Foreman Brick
Maker
Guide Bridge, Lancs
Harriet Harrison
Wife
M
38
Droylsden, Lancs
Elizabeth Harrison
Daur
S
19
Droylsden, Lancs
John Harrison*
Son
S
18
Brick Maker
Droylsden, Lancs
Albert Harrison
Son
S
14
Levenshulme, Lancs
Annie Harrison
Daur
S
12
Droylsden, Lancs
James Walter
Harrison
Son
S
7
Levenshulme, Lancs
George Harrison
Son
S
5
Levenshulme, Lancs
Doris Harrison
Daur
S
4 mo
Levenshulme, Lancs
*Slater's Trade Directory of 1903 lists John Harrison as a brick maker with brick works at Broom Avenue (off Broom Lane), Levenshulme, and at Sandfold Lane, North Reddish.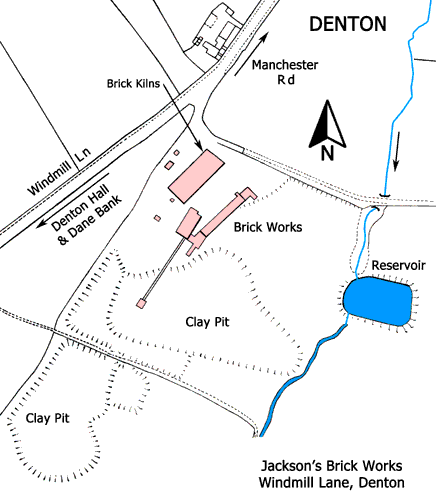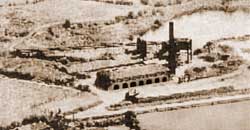 Jackson's Brickworks, Denton.
Preparation of Green Bricks
The clay preparation area at Denton was at the back of the site, away from Windmill Lane, adjacent to the clay pits.
The raw clay was first crushed and mixed with water and additives, typically breeze to aid the firing. This process was know as pug milling and the machine used was a pugmill, which in essence was a large mincing machine incorporating a rotating screw fitted with blades whose purpose was to cut and knead the clay and, importantly, remove all the air trapped in the clay. The clay was first placed in a hopper attached to the mill, which was then tamped to force it into the rotating screw. By the time that the clay had passed to the end of the mill it was perfectly smooth with an even texture and colour and improved firing qualities. The clay was then extruded in a continuous strip through a rectangular aperture in the end of the pugmill onto a roller conveyer where it was wire sliced into brick-length blocks. In both section and length a green brick was larger than the size of a finished brick to allow for shrinkage during drying and firing. Alternatively, for small batches, the clay would be put into moulds or presses where it was formed into the required shape.
The green bricks then needed to be dried before they could be fired and this was usually done in special drying kilns. Alternatively, bricks could be placed in a drying shed where they dried naturally. The final stage was to fire the bricks in high-temperature kilns.
Brick Kilns
The battery of kilns at Denton was at the front of the site facing Windmill Lane and they were intermittent or periodic kilns, each one consisting of a single firing chamber. In use, a kiln was loaded with a batch of green bricks, which were then fired and allowed to cool before it was unloaded and made ready for use again. A cycle usually took about a week to complete.
Three types of kiln were commonly in use and these were:
Up-draught kilns where the heat travelled naturally by convection from the combustion chamber up through the bricks.
Down-draught kilns where the heat of combustion was drawn down through the bricks by the use of a chimney or forced draught system.
Horizontal cross-draught kilns where the heat of combustion was drawn horizontally through the bricks by the use of a chimney or forced draught system.
It is the Type 3 kiln that would have been used at Denton. The Type 1 kiln was inadequate for the large quantity of bricks that were being manufactured and Type 2 kilns were circular with a domed roof, known as beehive kilns.
The oxidation period in the kiln ranged from around 150 to 980°C and the vitrification period ranged from around 870 to 1,315°C.
Sunfield Brick Works, Manchester Road, Denton, Lancashire
This brick works was situated off the south side of Manchester Road nearly opposite the entrance to Denton Golf Club. The proprietors were James and Thomas Ludlow.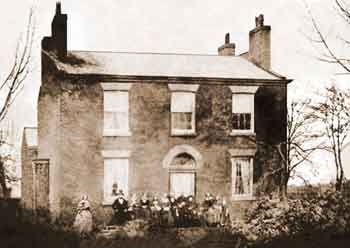 The Ludlow residence, Manchester Road, 1890s.
By 1891 James Ludlow was resident on the south side of Manchester Road, adjacent to the Sunfield Brick Works. In 1901 the residents were James Ludlow, his wife, Fanny Dixon, their children, and Septimus Horridge Ludlow, brother of James Ludlow. By 1911 his brother, Thomas Ludlow, was resident on Gorton Road, Reddish, with his wife Amy Howarth Mottram.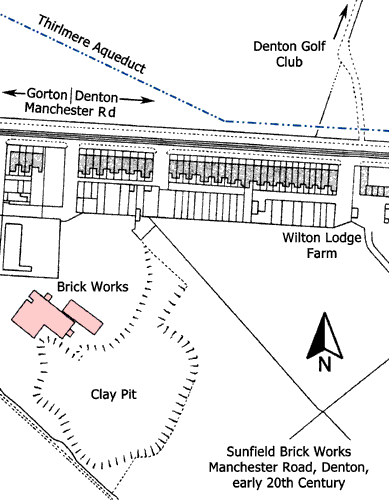 Thornley Lane Brick Works, Denton, Lancashire
This brick works was situated on Thornley Lane (North), about 410 yards to the south east of Ash Road. It was owned by M E Hall & Son who also owned another brick works on Taylor Street, Gorton.

<!>