Heys Colliery
Three shafts were sunk with the No. 1 downcast shaft and associated colliery buildings located on the north side of Mossley Road and to the south of Herries Street. A second shaft was sunk on the north side of Mossley Road, near the acute corner with Whiteacre Road, while the third shaft was on the south side of Mossley Road.
The original proprietors of Heys Colliery were three Kenworthy Brothers, James (1796-1854), John (1800-1869) and George (1802-1849), plus Samuel Swire (1813-1895) who traded as Kenworthy and Swire. Samuel Swire was also a partner in the Dukinfield Coal Company. In 1835 Samuel Swire stepped down as a proprietor and the three Kenworthy brothers continued trading. Following the deaths of James and George Kenworthy, the company of John Kenworthy & Brothers was dissolved in 1860. This was reported in the London Gazette in 1864, so it is likely that Heys Colliery closed sometime between 1860 and 1864. The Ordnance Survey Map for 1888 refers to 'Old Shafts' at the site of Heys Colliery.
The Colliery Disaster of Friday, 31 July 1857
In this disaster, 40 men and boys lost their lives. The colliery was owned by Messrs John Kenworthy and Brothers and it was situated on Mossley Road, Ashton-under-Lyne, close to the town centre. The colliery had five coal seams but at this time only the Two Foot Mine (160 yards deep) and the New Mine (225 yards deep) were being worked. The New Mine was the lowest and most fiery seam being worked and it was about 3 feet thick sloping at a rate of 1 in 2. There were three shafts comprising one upcast (foul air drawn out) and two downcast (fresh air drawn in).
Shortly after 1:00pm there was an explosion in the No.1 downcast shaft that resulted in fatalities to the men working in the New Mine. Of these, 39 were killed instantly and one, Edward Elliott an engineer, was fatally injured and he died of severe burns on Wednesday night, 5 August. He was found by rescuers at the top of an incline, lying at the back of the winding drum, where he operated the steam engine used to haul waggons over the incline. By 4:00pm on Sunday, 2 August, 31 bodies had been recovered and the last five were recovered at about 10:00am on Tuesday, 4 August, namely George Colbeck, Jonas Copley, William Healey (or Josiah Healey), Samuel Livesey and Francis Smith. The men working in the Two Foot Mine were able to escape by ascending the No. 2 downcast shaft directly after they heard the explosion.
The inquest opened at Ashton Town Hall on Saturday, 1 August before the coroner, Mr W S Rutter, and was adjourned until Monday. The foreman of the jury was John Ross Coulthart. The injured Edward Elliott was able to give evidence and following this it was again adjourned. The government inspector of mines for the Manchester District, Joseph Dickinson, was present at the inquest.
The jury met again on Tuesday evening, at the New Inn, Mossley Road, when the last five bodies to be recovered were identified. The New Inn is situated a short distance from the scene of the disaster. Subsequent hearings were held at the Town Hall.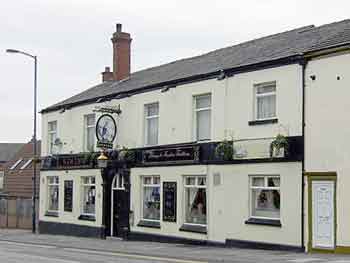 New Inn.
Among those who gave evidence were underlookers Henry Andrew and John Garside and miners Thomas Andrew, William Baraclough (or Barrowclough), John Lamb, George Livesey and George Vickers. After all the evidence had been given the jury retired for about 20 minutes and then the foreman of the jury announced the verdict. "We say that the deceased came to their death by an explosion of gas in the New Mine, on the 31st day of July, but how such an explosion was occasioned it does not appear." This means that the disaster was occasioned by an explosion of firedamp, the cause of which was unknown.
Résumé of the Inquest
The landowner and owner of the mineral rights was the Earl of Stamford and Warrington who was represented by his head steward, Mr Richmond. At this time the earl was George Grey, 7th Earl of Stamford, his full title being George Harry Booth-Grey (1827-1883), 7th Earl of Stamford (1845-1883) and 3rd Earl of Warrington.
Abel Buckley J.P. (1835-23 Dec 1908), a cotton manufacturer and politician, of Ryecroft Hall, Audenshaw (1885-1908), Mayor of Ashton-under-Lyne (1847-48/49) and briefly the Liberal M.P. for Prestwich (1885/6).
The colliery was owned by Messrs John Kenworthy and Brothers and the colliery manager was Mr Pearce.
Mr John Whittaker of Hurst was in favour of a disaster fund. Members of the jury contributed £122 11s 0d to the fund of which jury members Mr Slaney and Mr Stead each contributed £10 and £5, respectively.
Miners from neighbouring collieries assisted with the search and rescue work, in particular from the Fairbottom Colliery Company and H Lees & Sons of Park Bridge on the border between Ashton-under-Lyne and Oldham.
Samuel Lees (1831-1907) of Park Bridge gave evidence concerning the identification of bodies.
Mr Lord gave evidence concerning mine ventilation doors situated between the No. 1 downcast shaft and the fire of the boiler used to raise steam for the engine situated at the top of the incline in the New Mine. This incline was 460-yards long with a gradient of 1:2, that is, it had a downward slope of 26.6° to the horizontal. This shows that Heys Colliery was situated on an anticline or upward fold in the earth's crust with steep sides.
Joseph Dickinson, the government inspector of mines, condemned the system of pillar and stall working used at Heys Colliery as well as in many neighbouring collieries. In the pillar and stall technique of mining, a grid of tunnels (stalls) was driven into the coal seam, leaving pillars of unworked coal used to support the workings. Upon reaching the limit of mining, such as a natural fault, the pillars were mined in the retreat back to the shaft. The first part of the technique was known as 'working in the whole' and the second was known as 'working in the broken'. The area from which all the coal had been removed was called a 'gob or goaf' and here the roof would gradually settle down. It was this that caused subsidence at ground level.
Roll of the 40 miners who lost their lives
Each name is followed by the age and death register reference at Tameside Register Office, Dukinfield. 39 registrations are at Ashton Town and the registration of Edward Elliott is at Dukinfield.
With reference to Edward Elliott, he lived on Oxford Road, Dukinfield, and he left a widow and four children. He married Harriet Williams at St Mary's Church in the Market Place, Stockport, in 1846. Their children were Mary (1847-48), Mary Ann (1849-), Edward (1851-), Abel Martin (1854-) and Louisa (1856-).
Name
Age
Tameside
RO
BARROWCLOUGH John
27
AST/34/79
BARROWCLOUGH Richard
29
AST/34/72
BRAITHWAITE Henry
19
AST/34/72
BRAMHALL John
24
AST/34/74
BROOKSHAW Joseph
29
AST/34/78
CATLOW William
21
AST/34/78
COLBECK George
25
AST/34/77
COPLEY Jonas
16
AST/34/77
DAVIES Thomas
20
AST/34/76
ELLIOTT Edward
33
DUK/30/35
EMMETT John
23
AST/34/79
FOSTER John
37
AST/34/76
GILBERT George
16
AST/34/76
GOSLING Thomas
30
AST/34/78
GREEN Joseph
12
AST/34/73
GREENWOOD Benjamin
26
AST/34/74
GREENWOOD Benjamin
30
AST/34/75
HAMPSON Joshua
19
AST/34/77
HEALEY William
or HEALEY Josiah
21
AST/34/73
HOLLAND Abraham
16
AST/34/73
Name
Age
Tameside
RO
HOLLAND Henry
53
AST/34/76
HOLLAND Thomas
21
AST/34/76
HOPWOOD Samuel
20
AST/34/79
LIVESEY Samuel
26
AST/34/77
MOTTERSHEAD Charles
11
AST/34/75
NOLAN William
30
AST/34/74
OUSEY Philip
11
AST/34/72
PEET John
19
AST/34/79
PREECE William
14
AST/34/74
SAXON Samuel
26
AST/34/73
SCHOFIELD Joseph
14
AST/34/75
SMITH Francis
25
AST/34/77
SPEAK William
19
AST/34/79
TETLOW John
20
AST/34/72
THOMPSON George
40
AST/34/78
THOMPSON Robert
16
AST/34/78
UNDERWOOD John
27
AST/34/73
WALKER Samuel
16
AST/34/75
WEBB Jonathan
12
AST/34/74
WEBB William
22
AST/34/75
The Colliery Disaster of Monday, 17 March 1851
The disaster of 1857 was preceded by another explosion of firedamp which occurred six years earlier. In this disaster one man was killed instantly and another eight were injured of whom five died shortly afterwards from their injuries.
Though records of this event are deficient it is known that the government inspector of mines for the Manchester District, Joseph Dickinson, published a report and the man who was killed instantly was John Ogden.
Uncorroborated Roll of the six miners who lost their lives
Each name is followed by the age and death register reference at Tameside Register Office, Dukinfield.
Name
Age
Tameside
RO
ANDREW James Wright
18
AST/22/19
BOOTH John
20
AST/22/19
CONNOR John
21
AST/22/20
OGDEN John
30
AST/22/19
ROSE George
42
AST/22/19
WORRALL John
37
AST/22/20
Roll of other fatalities