Hat Accessory Manufacturers
Audenshaw
Robert Noblett Ltd, Hat Leather Dressers and Manufacturers,
Audenshaw Road, Audenshaw
This business was founded in 1853 by Robert Noblett Sr (1834-1884) and James Henry Turpin but in 1859 the latter stepped down and Robert Noblett Sr continued the business on his own account. Following his death in 1884 his son, Robert Noblett Jr (31 May 1879-2 March 1951), became the owner of the company. He was joined in the business by Amos Davies who was first employed by Robert Noblett Sr as a boy assistant but he had worked his way up to become the manager. When Robert Noblett Sr died, Amos Davies recognised the opportunity presented to him and he became a partner in the business. He was able to make a considerable contribution in the management of the company due to the practical skills and experience he had gained over many years.

At some point the company was incorporated as a limited company and the works, known as the Spring Bank Leather Works (or Zoar House Leather Works), was situated on the north side of Audenshaw Road adjacent to the Blue Pig Public House. This company also manufactured chamois leathers and it closed in 1965.

Amos Davies was born at Audenshaw in 1854 to John Davies and Ellen Hayes (or Heyes) who were married at St Michael's Church, Ashton-under-Lyne, in 1845. He married Martha Kellett at Ashton-under-Lyne in 1877. In 1901 he was resident with his wife and daughter, Bertha (b. 1879), on Audenshaw Road, Audenshaw. He died on the 4 March 1910, aged 55 years.

Joseph Hands French, Hat Leather Dresser,
Denton Road, Hooley Hill, Audenshaw
This business was active by 1896 and the works was situated on the east side of Denton Road. Besides his business interest he was also an Audenshaw Councillor and in 1902/03 he was the Chairman of Audenshaw Urban District Council.

Joseph Hands French was born at Coventry, Warwickshire, in 1850 to Joseph French and Sarah. His first wife, Katherine Arnsby, died at Audenshaw in 1884, aged 25 years, and he married his second wife, Elizabeth Maria Alman at Stockport on the 21 December 1888. In 1901 he was resident with his wife on Denton Road. He died at Audenshaw on the 9th April 1906, aged 54 years (actually 56 years).

Peter Blyth, Hat Box Manufacturer,
Victoria Works, Pitt Street, Hooley Hill, Audenshaw
This family business of hat box manufacturers was founded by Peter Blyth in 1876. At some point it was incorporated as a limited company styled as Peter Blyth Ltd. As the hatting industry declined in the 20th century, the company diversified and in 1964 it was listed as a subsidiary of Lloyd's Packing Warehouses Ltd of Manchester. This company specialised in providing warehouse facilities for textiles and yarns for export as well as providing bonding stores for a wide range of goods. It also had woodworking factories for the manufacture of boxes and cases for the home trade and export. Peter Blyth Ltd was liquidated in 1969.

Peter Blyth was born in Scotland in 1814/15 and his first wife was Elizabeth Dean who died at Ashton-under-Lyne, in 1885, aged 65 years. He then married Nancy Ashworth at St James's Church, Ashton-under-Lyne, in 1886. He died at Audenshaw on the 3 July 1905, aged 90 years. He was assisted in the business by his sons, James (b. 1847), George (1849) and Charles (1860).

<!>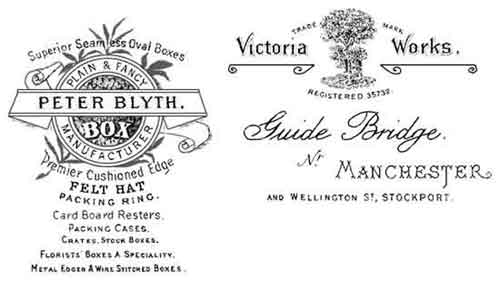 <!>

Robert Appleby Ltd, Hatters' Fur Cutter,
Victoria Fur Works, Brookfield Street, off Audenshaw Road, Audenshaw
& associate company, the Denton Fur Cutting Co Ltd
This business was founded by Robert Appleby (1863-1924) of Denton Road, Hooley Hill, Audenshaw. Following his death in 1924 his son, Percival Robert Appleby (23 Aug 1888-1971), became the owner of the business. In 1939 he was resident with his wife, Lena Carr, and children on Denton Road, Hooley Hill. He was also the Chairman of the Denton Fur Cutting Co Ltd but on the 27 October 1937 this company was voluntarily wound up. Following the death of Percival Robert Appleby in 1971, Robert Appleby Ltd was wound up in 1972.

<!>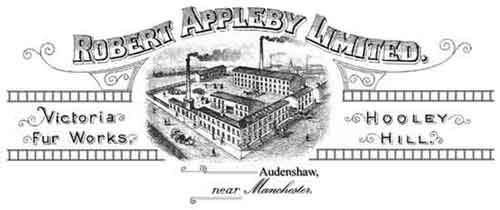 <!>

Other prominent hat accessory manufacturers of Hooley Hill, Audenshaw
Hat Boxes

Robert Beswick of Denton Road.
  Proprietor: Robert Beswick (1839/40-1901).
Julius Downs & Sons of Providence Works, Providence Street.
  Proprietors: Julius Downs (1817/18-1891), George Downs (1855-1919) and Peter Downs (1864-1926).
<!> <!>

Hat Trimmings (Galloons)

William May & Son of Pitt Street.
  Proprietors: William May (1828/29-1902) and Stephen May (1867-).
Thomas Thorley of Shepley Road.
<!>