Jacob Fletcher Fletcher (1821/22-1857)
Peel Hall, Little Hulton & Denton,
Landowner and Coal Proprietor
John Marius Wilson, Gazetteer of England and Wales, 1870/72

Little Hulton lies along the A6 trunk road between Walkden and Over Hulton/Westhaughton and to the south of Great Lever. It adjoins Walkden and there are no clear dividing features. It is now part of the city of Salford but formerly it was in the Bolton registration district.

Following the death of Ellis Fletcher Snr (1765-1834), the Clifton Estate was managed by trustees and it was not until Jacob Fletcher Fletcher was aged 21 years that he received his inheritance. Slater's Trade Directory for 1850 sheds some light on this. Jacob Fletcher Fletcher was the receiver under the Court of Chancery of the collieries of the late Ellis Fletcher. His agent was Peter Higson and he had an office in Cross Street, Manchester. Besides the collieries, there were wharfs at Ordsal Lane, Stanley Street and Gaythorn Street. The estate included land and coal mines around Little Hulton, land in Denton and part of neighbouring Bredbury, Cheshire, for which the estate held the mineral rights, namely coal.

Jacob Fletcher Fletcher never lived in Denton and hence he was both an absentee landlord and an absentee proprietor of the pits in Denton that were centred on Burton Nook. In 1855, shortly before his death, he returned to Lancashire after an extended tour of the Continent, following which he paid a visit to Denton Colliery. The 1851 census shows that he had appointed Peter Rothwell as his agent, to manage the Denton pits on his behalf, and Thomas Vickers as his Clerk. Both men were living on Stockport Road at this time but Peter Rothwell later moved to Fletcher Street, which was opposite Ellis Pit (Denton Colliery) on the south side of Stockport Road.

However, it is known that he visited Denton from time-to-time, principally to inspect his mining interests there and to verify that they were being managed to his satisfaction. As well as making business trips he also visited Denton for special occasions, such as the laying of the foundation stone for the new St Lawrence's Infant and Junior School on Stockport Road, for which he gave the land upon which it was to be built.

Jacob Fletcher Fletcher has not been found in the 1841 or 1851 censuses but there are records of him in the marriage registers for the church of St Paul in the Parish of Peel, which stands on Peel Lane, Little Hulton.

Marriages at St Paul in the Parish of Peel
(Marriages recorded in the Register for the years 1850 - 1902)

Marriage: 9 May 1850 St Paul, Peel, Lancashire, England Francis Dermot Holland - 22 Gentleman Bachelor of Cropthorne Co. Worcester Ann Fletcher - 18 Spinster of Peel Hall Groom's Father: Francis Holland, Esquire Bride's Father: Ellis Fletcher, Esquire Witnesses: J. Fletcher Fletcher; T. H. Ainsworth; John Giles; Matthew Dawes; Jane Corbett Holland Married by Licence by: F. R. Lyon Offg. Mr. Register: Marriages 1850 - 1902, Page 1, Entry 1 Source: Wigan History Shop MF1A 30/2 Civil Registration Index: June Quarter 1850, Bolton, 21 143

Marriage: 5 Oct 1853 St Paul, Peel, Lancashire, England Robert Harrison - Full age Chemist & Druggist Bachelor of Farnworth Alice Martin - Full age Spinster of Little Hulton Groom's Father: Abraham Harrison, Grocer Bride's Father: Thomas Martin, Surgeon Witnesses: John Crompton; Ann Martin; J. Fletcher Fletcher; Thomas Martin Married by Licence by: Thomas Airey Incumbent of Peel Register: Marriages 1850 - 1902, Page 4, Entry 7 Source: Wigan History Shop MF1A 30/2 Civil Registration Index: December Quarter 1853, Bolton, 8c 361

Peel Hall*
In 1807 Matthew Fletcher purchased Peel Hall (originally called Wicheaves Hall) at an auction held at the Antelope Hotel (aka Poor Dick's), located on the corner of Peel Lane and Manchester Road West but in 1808 he died. Matthew Fletcher left the house to his nephews, Ellis and John, and Ellis Fletcher's son, Jacob Fletcher Fletcher, inherited the hall and became heir to the Clifton Estate. A new Peel Hall was built on the site in 1845 and it was said that Charles Barry (well known for the Houses of Parliament and the Manchester Athenaeum) was the architect but this is now considered unlikely.

<!>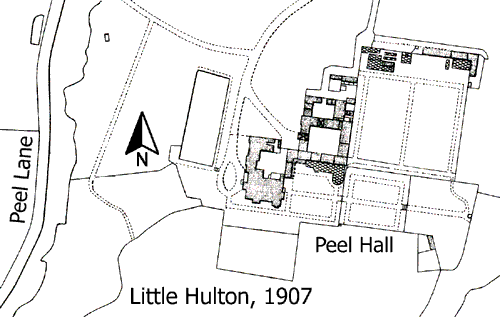 Following the death of Jacob Fletcher Fletcher in 1857 Peel Hall had a chequered history, changing hands many times. In c.1955 it was partially reduced and in 1995 it was demolished due to neglect, in spite of being a Grade II listed building, and thus another piece of heritage was lost.
The site of the hall is between Peel Lane and Armitage Avenue and some original stone walling that marked the boundaries of the estate can still be seen.
*There were two Peel Halls in Little Hulton. To distinguish one from the other, this one is referred to as 'Yates' Peel Hall while the other one is referred to as Peel Old Hall or 'Kenyon' Peel Hall.
Family Motto
The motto of the Fletcher family was 'alta pete' (aims at higher things), which might seem odd for a family of mine owners.