Artefacts from Denton Colliery
Miner's Safety Lamp
The safety lamp, shown below, was manufactured by Richard Johnson, Clapham & Morris of Manchester. The details on the top of the lamp indicate that the company also had a presence in Liverpool.
This company was founded in 1773 and it was based in Dale Street, Manchester, before moving to Lever Street. It became a public company in 1891 and by 1914 it was being described as a general hardware, iron and metal merchant. Besides making safety lamps for miners, the company manufactured a wide range of wire products as well as tinplate, sheet metal, corrugated iron and brass and bronze founding. The company was still in business in 1961 but in the 1950s it stopped making safety lamps when this side of the business was transferred to the Protector Lamp Company of Eccles.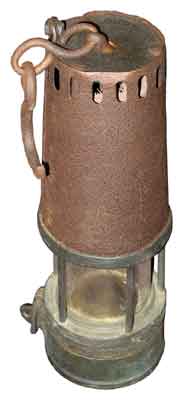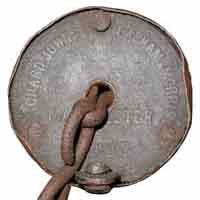 It also known that W E Teale & Co Ltd of Swinton, Lancashire, provided safety lamps for use at Denton Colliery, each one being supplied with a numbered brass miner's check. William Edward Teale manufactured Mueseler type safety lamps, the design of which originated in Belgium.
Steel rail from an underground mine gallery
The flat-bottomed rail, shown below, rested directly on wooden sleepers to which it was fastened by spikes with offset heads. It is 6 feet long × 1⅜ inches wide across the flat bottom × 2 inches high. The head is ¾ inch wide × approximately ¾ inch deep.
There are three holes in the web (enlarged due to corrosion), one in the centre and one at each end. The end holes suggest that rails were fastened to each other by means of a fishplate having two bolt holes. The purpose of the central hole is uncertain unless it was for a tie connected to the opposite rail.
Rail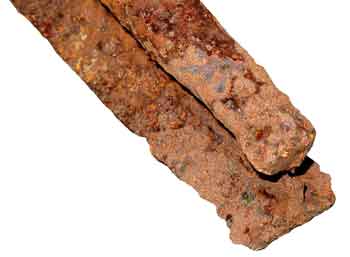 Profile
Side view
Side view showing central slot
Horse Buckle & Miner's Check No. 56
The brass buckle was part of the tack used at the colliery and it is stamped 'DENTON COLLIERY'.
<!>