Introduction
The tradition of using trains of compartment boats on the canals of Britain is probably as old as the canal system itself. Rectangular compartment boats, made of wrought iron, were used on the Shropshire tub-boat canals and on the Torrington and Bude Canals in the West Country. The Shropshire tub-boats were 20 feet long by 6 feet 4 inches wide and could carry up to 5 tons of cargo usually coal. Writing in 1904, Henry Rodolph de Salis stated that there were only about 24 tub boats left in Shropshire. However, it is understood that a few of these boats were still in use on the Coalport Canal during the Great War (1914-18). Up to 20 boats were towed in a train by horses, the train being steered by a man on the towpath who controlled the lead boat with a long pole.
Boats called 'Fen lighters' were also used the Great Ouse and Middle Level systems of the Fens. In this system, up to five wooden boats, each about 42 feet long, were coupled together by chains and poles, a train being hauled by horses or steam tug.
'Tom Puddings'
The greatest concentration of compartment boats was to be found on the Aire & Calder Navigation in Yorkshire, where trains of boats, known as 'Tom Puddings' or 'pans', were used to carry coal from Yorkshire mines to waterside power stations and to colliers moored at the inland port of Goole. The origins of Tom Puddings can be traced back to 1860 and their design evolved into boats of steel plate construction about 20 feet long by 15 feet wide, capable of carrying 35 to 40 tons with a draught of about 6 feet. They were closely coupled to each other with chains and dummy bows were used to head each train to reduce water resistance. Originally, steam tugs were used to push the trains but eventually they were pulled and diesel tugs replaced steam tugs. Typically, a train consisted of 19 boats and the average quantity of coal carried per journey was 740 tons. Boats were loaded by manoeuvreing them below chutes, the coal being discharged onto the chutes from lorries or railway waggons. When a train of boats arrived at its destination, it was manoeuvred below a tall, hydraulically operated, compartment boat hoist where a cradle lifted each boat and then turned it over to discharge the coal down a chute directly into the hold of a waiting collier or onto a conveyor that carried the coal to a power station, such as Ferrybridge 'C'. These hoists could each handle about 1,000 ton of coal per hour. It is understood that there were five hoists but only two of these have survived, Numbers 3 and 5, both of which are now listed. Another system of boat train, known as BACAT, was also introduced onto the Aire & Calder Navigation but this was short lived.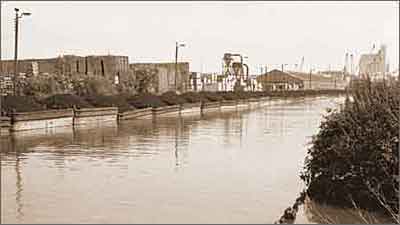 Boats loaded with coal at Goole, 25 July 1980.
Picture Gallery
Click thumbnails for full pictures, then click browser back button/arrow to return here
Detail showing the bow of a boat, 25 July 1980.
Group of empty boats, 25 July 1980.
Group of empty boats showing the detail of the stern, 25 July 1980.
Detail showing how boats were coupled to each other with chains, 25 July 1980.

The bows and sterns of the boats were so designed that each boat could be closely attached to its neighbours and at the same it was still possible for trains to navigate bends in the navigation.
Group of boats loaded with coal, 25 July 1980.
Left, three dummy bows used to head trains of boats and right, empty boats, 25 July 1980.
Two diesel tugs used to pull trains of boats, 25 July 1980.
Diesel tug, 25 July 1980.
No. 5 Compartment Boat Hoist at South Dock, 25 July 1980.

These hoists were hydraulically operated.
No. 5 Compartment Boat Hoist at South Dock, 25 July 1980.

In the foreground, the barge 'Sandall' is moored alongside the ship 'Anglezarke'.